Hardwicke's PJ Kirby QC, Brighton Uni LLB lead Zoe Swan and Frances Bennett, pioneer of Burges Salmon's legal apprenticeships scheme, to appear at Kings Place London on 22 May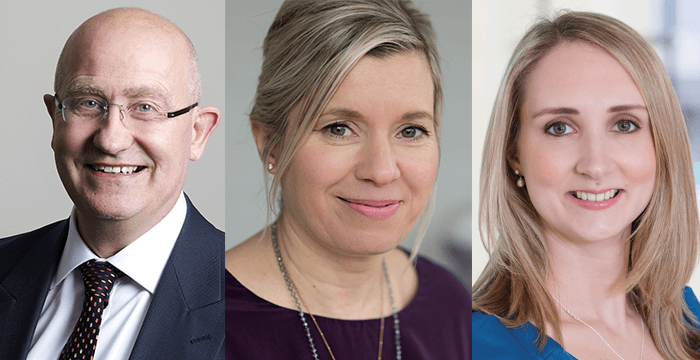 A trio of leading legal figures have been announced for the biggest law training gathering of the year.
PJ Kirby QC, commercial silk and joint head of Hardwicke chambers, and Zoe Swan, undergraduate law course lead and lecturer at the University of Brighton, will share their thoughts about mental ill-health in the law and what can be done to address rising concerns. Joining them on the panel session will be LawCare chief Elizabeth Rimmer, Newcastle University's Professor Richard Collier, Freshfields junior lawyer Lloyd Rees and Junior Lawyers Division committee member Kayleigh Leonie.
Kirby will explore the historical context of the legal profession's mental health and wellbeing debate and reflect on the attitudinal shift both during his time in practice as a solicitor and now at the bar. The nature of the self-employed bar and its influence over a barrister's work-life balance will also be a discussion point, and Kirby will touch on the rise of 'perfectionism' in law while sharing stories from his own time in practice.
Swan will discuss her recent decision to overhaul the undergraduate law curriculum at Brighton to include content on wellbeing and resilience for first and second years. The qualified health and wellness coach and soon-to-be yoga instructor strongly advocates students learn holistic skills early in their careers and runs wellbeing workshops for this purpose.

Frances Bennett, resource manager at Burges Salmon, will feature during the clinical legal education and apprenticeships panel session. The Bristol-headquartered outfit is one of the 'Trailblazer' law firms which helped design the government's new legal apprenticeship standards. Bennett, the architect of Burges' burgeoning legal apprenticeship programme which launched in 2016, will discuss the advantages of on-the-job learning. She will be joined by legal academics from Nottingham Trent University, Northumbria University and Swansea University, all of which are doing interesting things in this area.
Both sessions are new for this year and will take place concurrently during the afternoon of Legal Cheek's Future of Legal Education and Training Conference 2019 on Wednesday 22 May.
Other sessions at this year's Conference — which is supported by lead sponsors BPP University Law School and The University of Law, with further silver sponsorship from LexisNexis and Nottingham Law School — will include entrepreneurship and cross-disciplinary skills and, in particular, the coming together of law and computer science. These will sit around a centrepiece debate on the practical effects of the new Solicitors Qualifying Exam (SQE) starring Solicitors Regulation Authority education and training chief Julie Brannan, and a future of bar training discussion made possible thanks to the support of Hardwicke and Cornerstone Barristers, and featuring no less than six bar big hitters. The full schedule, including a list of speakers announced so far, can be found here.
General release tickets are available to purchase.
Students interesting in attending (we do not charge students for attending our events) should contact us about becoming part of Legal Cheek's campus ambassador programme.
Highlights from last year's Future of Legal Education and Training Conference