Dedicated barrister session to feature practitioners from Hardwicke and Cornerstone, alongside BPTC heads, academics and Inns' director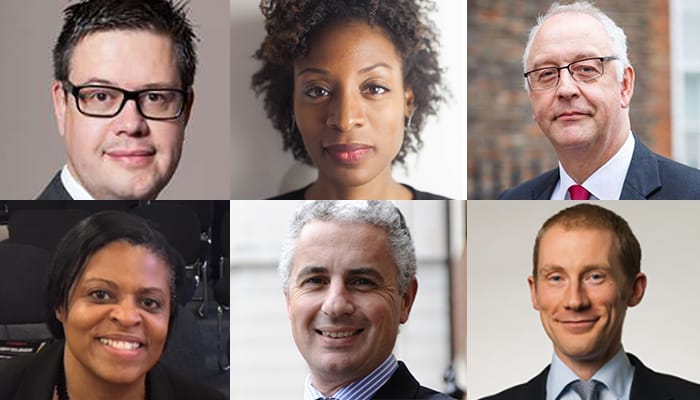 Today the bar session for the Future of Legal Education and Training Conference 2019, 'Education and training at the bar', has been announced.
It will be chaired by Leeds Beckett University Law School dean Deveral Capps, who sits on the Bar Standards Board's (BSB) Future Bar Training Programme Board as a member of its Curriculum and Assessment Review group. Capps, a barrister at North East set Trinity Chambers, has 25 years' experience in higher education.
He will appear alongside Hardwicke commercial barrister Ebony Alleyne and Cornerstone Barristers public law barrister Andrew Lane, who is a member of the set's pupillage committee. They will be joined by Jacqueline Cheltenham, national director of The University of Law's Bar Professional Training Course (BPTC), Council of the Inns of Court director and Inns of Court College of Advocacy (ICCA) dean James Wakefield and BPP University Law School BPTC design lead Mark Keith.
Today's speaker announcement comes as a series of new training rules, that are aimed at making the route to qualification as a barrister more flexible and affordable, receive BSB approval. The regulator has endorsed four training pathways, one of the more radical of which includes splitting the BPTC into two parts, with more of the course potentially delivered online. The shake-up could lead to a number of new entrants to the BPTC market, including the Inns of Court College of Advocacy (ICCA), which has already signalled its intention to launch a more "affordable" version of the vocational course.
Through a series of short discussion points, the speakers will share their views on how barrister training should evolve to adequately prepare the next generation of advocates. Afterwards there will be questions and discussion from the audience.

The bar session adds a second stream to the day-long Conference — which is supported by lead sponsors BPP University Law School and The University of Law — and takes place across three interlinked spaces at Kings Place, London, the exclusive canal-side venue in Kings Cross, on Wednesday 22 May.
A discussion focusing on the practical effects of the new Solicitors Qualifying Examination (SQE) and headlined by Solicitors Regulation Authority (SRA) education and training chief Julie Brannan, will run concurrently to the bar session. Further sessions include entrepreneurship, cross-disciplinary skills and the coming together in particular of law and computer science, mental health, wellbeing and resilience, and clinical legal education. The full schedule, including a list of speakers announced so far, can be found here.
The bar session of the Future of Legal Education and Training Conference has been made possible thanks to the support of Hardwicke and Cornerstone Barristers.
First release tickets are available to purchase until midnight on Wednesday 17 April. General release tickets at full price will be available from 18 April.
Highlights from last year's Future of Legal Education and Training Conference