Beats working the tills at Tesco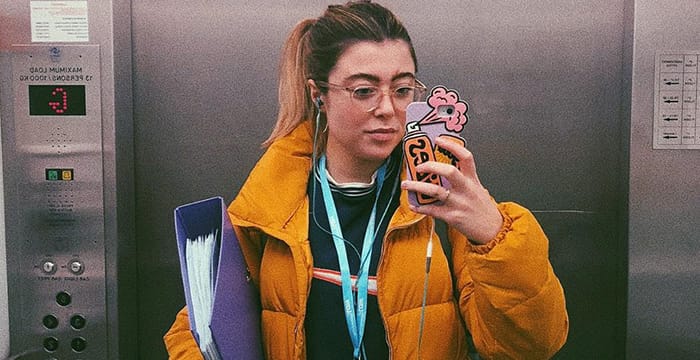 Eve Cornwell is known to the masses for many things: her popular YouTube channel which has amassed a loyal following of nearly 200k subscribers, her trendy outfits and quirky catchphrases ('Yeet') and, of course, her die-hard commitment to all-things coffee — remember the time she gave up coffee for a week?
Now the social media influencer has used her commercial savvy to launch her own millennial coffee club. Taking to Twitter and Instagram yesterday where she has a combined following of 78k followers, Cornwell wrote: "I've been working on this brand for over 8 months now, but your girl is finally releasing her own BRAND — the Millennial Coffee Club."
Much mystique surrounds the future Linklaters trainee's latest venture, but she does describe it as a "brand" and teases her fan base about "a whole lot more information coming soon". That didn't stop her fans from speculating. Could Cornwell be championing clothing? Those hoodies featured in the trailer (below) wouldn't look out of place in your average law school library, with one fan commenting: "I hope we at least get a shot at those dope hoodies." Or perhaps it's coffee beans that the connoisseur is promoting? "I still have no idea what this is. A TV show? A brand of coffee? A cult? I'm so confused!" wrote another follower. Whatever the budding lawyer is working on will be revealed in a vlog this week and released in "series" with the first drop on 6 August.
Millennial Coffee Club isn't the first undertaking of its kind for this commercially-minded future lawyer. In recent weeks, the social media star (who has her own agent!) has teamed up with a number of notable brands to promote their products. In one Insta snap Cornwell can be seen sipping an iced latte (duh) with a Post Office travel money card. "I recently went on a secret post-exams ? escape ? with the @ukpostoffice to try out their travel money card and travel money app," wrote Cornwall, who even vlogged about the venture.
In another snap she partnered with Mob Kitchen to promote a giveaway for a box of kitchen utensils. Competition rules required entrants to give the food vloggers an Instagram "follow".
In recent years we've seen a rise of advertisers reaching out to young 20-somethings to partner with and post what is often paid-for sponsored content to their feeds. It's just one way of raising a brand's exposure and reaching large, curated audiences consisting of the influencer's followers. In fact, research indicates 60% of Insta users have discovered new products through the popular photo sharing app. New rules denote that all 'grammers must disclose endorsements on their social media channel in the interests of transparency — it's why we often see '#ad' or '#spon' crop up in certain posts. An influencer with Cornwell's following could rack up as much as £326 per sponsored post, according to an online calculator.
WaysToStudy is another legally-minded Instagram influencer and vlogger who has capitalised on her 237k-strong following. The mysterious 'life hack' law student, who chooses not to disclose her identity online, regularly posts aesthetically pleasing study snaps, and has a dedicated online shop where you can buy some of the stationary featured on her feed.
For the time being it looks like Cornwell will continue to juggle coffee with cases. The University of Bristol law grad has been vlogging her way through the accelerated Legal Practice Course (LPC), which she completed at The University of Law in June, and will embark on her training contract with magic circle member Linklaters later this autumn. In April she hosted a coffee shop meet-and-greet, 'Eve Cornwell Unfiltered', for her fans.