Even the managing partner's dad is getting involved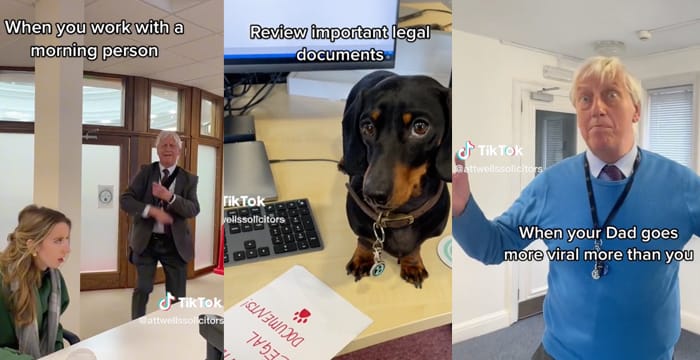 A regional law firm is enjoying new-found fame on TikTok thanks to its GenZ friendly content.
Elizabeth Hendry, the firm's head of social media, initially pitched the idea of joining the popular social media platform as a way of reaching a younger audience of wannabe lawyers.
And the decision appears to have paid off. Having gone on to produce a host of amusing clips — some of which tap into the latest TikTok trends — the firm's account now boasts over 4,000 followers and recently surpassed the million likes mark.
Lawyers and staff from across the firm regularly appear in the videos, with Stephen Attwell, the father of managing partner Nick Attwell, becoming a TikTok star in his own right thanks in part to his eye-catching dance moves.
One TikTok alone has garnered an impressive 840,000 likes and over 4,000 comments.
"Our motivation for starting the TikTok account to show that Attwells is a great place to work and that we are friendly and approachable lawyers," Hendry told Legal Cheek. "We wanted to break down traditional misconceptions about law firms and demonstrate that working in the legal sector can be both professional and fun."
She added: "We wanted to directly engage with young people who may be considering a career in law and we aim to enhance our both our potential talent pool and our socio-economic inclusivity."
Law firms have taken a somewhat cautious approach to TikTok so far, with Shoosmiths currently the only big legal player to run an account on the platform.
Legal Cheek's own TikTok is fast approaching 20,000 followers. Follow our TikTok page to make sure you don't miss out!