Mary-Grace Olu has attracted over 90k followers with her tongue-in-cheek clips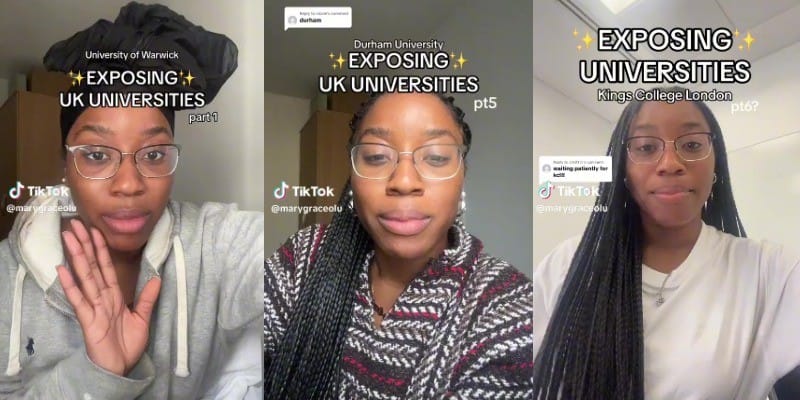 An LSE law grad has attracted a seriously impressive following on TikTok thanks in part to her hilarious satirical posts documenting the different types of students you may encounter at universities across the country.
Mary-Grace Olu is a future Magic Circle trainee who is currently studying the Legal Practice Course at The University of Law. But alongside her studies, Olu runs a popular TikTok channel @marygraceolu with over 90k followers.
Alongside providing relatable content for law students and tips for those looking to secure an all-important training contract, her latest "exposing universities" series takes a light-hearted look at some of the stereotypes associated with unis up and down the country.
The series kicks off with Warwick, which is "that place for those students that are like, you know, I am gonna sell myself to the corporate world however I still want to have a very enjoyable life and university experience", Olu jokes.
Whilst Warwick students are "extremely driven and focused", they're also "abit boujee", she quips.
Durham also features as "that annoying younger sibling that is kind of a beg". Olu adds, "I do think they are kind of underrated and overshadowed by the fact that they're kind of like Oxford and Cambridge but they're actually quite different…for starters they're like, you know, in the middle of nowhere,"
The law student admits that "I always see them [Durham students] at literally every single careers event, vacation scheme, internship all of that good stuff", and the post goes on to endorse the uni's "community feel" and "nice, peaceful calm area". "Make sure you do go to Durham because it's an amazing uni", she concludes.
And Olu's student followers can't seem to get enough with many taking to the comments to encourage the future lawyer to create a TikTok for their uni next.
Speaking exclusively to Legal Cheek, Olu explained that the aim behind her viral Tiktok series is "ultimately to increase access and knowledge to students from all backgrounds."
She added, "a lot of students don't really know the behind-the-scenes or the truth on university life, careers and academics but education is an extremely powerful tool and a life-changing experience for many, so students should be encouraged to learn about their future prospects and know the reality of what they're getting themselves into this September!"
Some other unis featured so far include Kings College London and, the most recent addition, the University of Manchester.