Legal Cheek Careers sits down with Bryan Cave Leighton Paisner's Nick Pryor to discuss the importance of legal tech for aspiring lawyers, ahead of his appearance at Monday's in-person event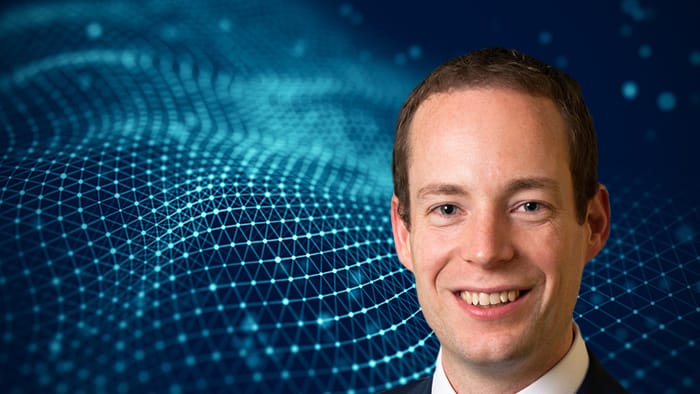 Nick Pryor, global director of practice innovation at Bryan Cave Leighton Paisner (BCLP), is an expert on legal tech and has seen first-hand how it is changing the legal profession.
Legal tech has been a key talking point in the last five years and the pandemic has only increased the drive to create and promote new ways of doing things. Pryor, who admits to always being "a bit techie", says it was a while before he joined the dots between his interest in tech and its application to the law. He describes eDiscovery, an electronic method for identifying, collecting and producing electronically stored information, as his gateway to understanding how transformative technology can be to the practice of law.
Over his almost 20-year career in law, Pryor watched the rise of legal tech as it happened. After early experience as a commercial litigator at Macfarlanes, he found himself wanting to step out of delivery and into shaping the machinery around the delivery space. This was marked by his move to BCLP, where he has been working in technology and knowledge management for the last thirteen years. "Legal innovation and knowledge management go hand in glove," he explains. "It's all part of the infrastructure that supports the delivery and improvement of legal services, and that's what really interests me."
Here, Pryor shares his rundown of the top six reasons why future trainees need to be thinking about legal tech and the ways it will impact their work.
1. Legal tech can future-proof your career
"Legal tech has become an essential part of how lawyers do their job," says Pryor. "Not just the basic foundational technologies that enable them to "get the job done", but actually shaping and enriching the ways they work." Pryor describes automation, workflow, visualisation and drafting tools as key elements of the legal tech toolkit that lawyers are using to serve their clients. Unlike 30 years ago, future trainees will have to be able to engage with these tools simply to do their job. "We are always increasing the ways in which we're engaging with and interfacing with our lawyers, and especially our junior lawyers," explains Pryor. "Because they are closest to the delivery they bring a fresh perspective and will see the 'pain points' and problems we don't know are there." The other crucial role of trainees is what Pryor describes as evangelising new technologies: "If we want to onboard a new technology, we have a pilot and trial process. Our junior lawyers are the best assets to support us in trying it out, giving feedback and making sure that people are aware of it."
2. Clients want firms to operate at maximum efficiency
Client needs are central to most law firms' strategy and decision-making processes, so it follows that they are a major driving force behind the focus on legal tech. "If technology makes us more efficient, our clients are entitled to ask us if we are using and making the most of technology to provide efficient services to them," says Pryor. But there's also a second force at play here, he says, adding: "Technology allows us to collaborate much more closely with our clients, so opportunities to use shared technology are increasingly important. For example, our clients could use a digital front door [an online portal where clients can access project information] to instruct us or have greater visibility on case status. They are actively part of the conversation about how we do things and how we use technology."
3. In a post-pandemic world our relationship with tech has changed
As we move away from the restrictions imposed by the pandemic, we have emerged into this new hybrid world. It's clear our relationship with tech has changed in the last few years and some of these changes are here to stay. "Legal tech is undoubtedly a part of our new hybrid working relationships," Pryor agrees, continuing: "The forced adoption of technologies from Covid has been great because it's changed some standing assumptions about how we can get the job done. Whether that's virtual meetings or electronic signing of legal documents, any fixed views about whether and how things get done has been thrown wide open. I think that makes people more receptive to other new ideas and ways of doing things — because we've proven we can change when we need to."
4. Legal tech knowledge makes you more attractive to employers
It's no surprise that law firms are looking for trainees that are willing to embrace technology but how can applicants actually demonstrate this? "We don't expect our lawyers to be able to code just like we don't expect developers to negotiate contracts," Pryor says. Instead, he advises that students show an understanding of how legal work is structured so they can think methodically about the processes law firms use. "For example, if you break down what it takes to author a contract based on a template or precedent," he says, "it's really a process of compiling different objects. The logic of determining which provisions to include is much like programming — IF/OR/ELSE statements, variables, loops, etc. You don't have to understand the specific technologies, it's more about a way of thinking." Of course, attending events like the one on Monday are also a great way of demonstrating a willingness to engage.
5. Legal tech gives lawyers time to do more important things
There are plenty of naysayers out there worrying that automation makes us dispensable. But for lawyers, this sort of automation frees up precious time to get on with tasks that require higher-level thinking. There are loads of contexts in which we are using technology to help in this way, Pryor explains, "from huge due diligence exercises with lots of contracts to review, to eDiscovery, to workflow and task management". Lawyers have never been more valuable, he adds reassuringly, "but the technology helps them operate in the places where they truly add value. Technology helps them uncover legal issues and risks. But advising on the consequences of what's uncovered is where the lawyer adds value."
6. Legal tech is bringing clients closer to the law
Self-service tools are an increasingly popular offering from law firms, and legal tech is a critical part of how they function. "Part of the challenge is how can we package knowledge for our clients?", says Pryor. "Explicit knowledge is the stuff that you can write down — and self-service tools are a way that we bring this kind of knowledge to our clients," he explains. Firms are using these to add value for clients, "whether it is packaging and productising knowledge for horizon scanning or knowledge as a more instant requirement, these tools allow clients the freedom to navigate their own needs. Our lawyers can then provide support for the edge case problems, or those which rely on more tacit and experiential knowledge".
These six reasons highlight the importance of legal tech for future trainees but Pryor emphasises that legal tech shouldn't drive the conversation: it should be a consequence of business requirements.
"I really encourage that kind of creative, open thinking," he says. "It's knowing when to ask the question or to promote a problem. Our team of engineers understand our different technologies. We know what can and can't be done. So, it is always much better to bring us a problem rather than coming forward with a very fixed idea of the solution. Because often that loses the opportunity to think creatively and laterally and potentially come up with a better answer in collaboration."
Nick Pryor will be speaking at 'Innovation and the law — with Bryan Cave Leighton Paisner', an IN-PERSON student event taking place on Monday 17 October. The event is now FULLY BOOKED but you can take a look at our other student events.
About Legal Cheek Careers posts.