BARBRI deputy managing director, Robert Dudley, on why scholarships and social inclusion are so important when it comes to funding the SQE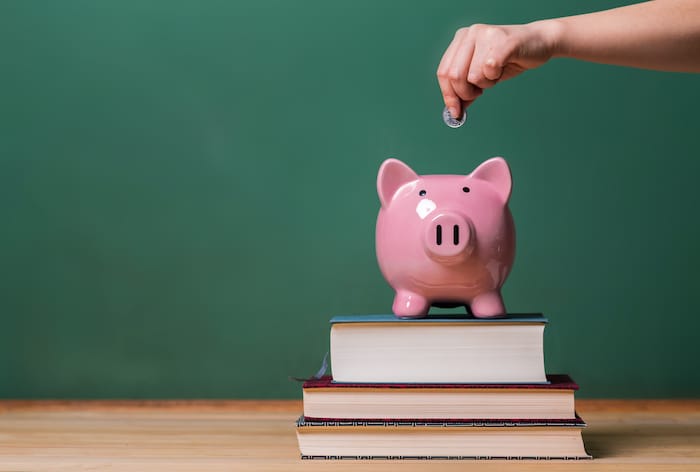 After many years of anticipation, the Solicitors Qualifying Exam (SQE) is almost upon us. With many students still struggling to make sense of the endless information available about the exams, and possible funding options, Legal Cheek's Philippa Canfield caught up with BARBRI's Robert Dudley, to shed light on these concerns.
Last summer, the Solicitors Regulation Authority revealed that the cost of the centralised assessments would come to a total of £3,980 — £1,558 for SQE1 and £2,422 for SQE2. Since then, legal education providers have gradually been revealing the costs of their own SQE prep courses.
With both the prep courses and the exams to take into consideration, a feeling of uneasiness has arisen among students regarding their funding options. Having been the first legal education provider to go public with its SQE pricing, BARBRI is also one step ahead when it comes to making financial support available.
BARBRI has three scholarships on offer, which cover full or partial funding for their SQE1 prep courses: the Public Sector SQE Scholarship, the Essay Competition SQE Scholarship and the First-Class Honours SQE Scholarship, which Dudley describes as each sitting in one of two categories: "merit-based or public interest".
The Public Sector SQE Scholarship offers financial support for anyone who is currently, or is intending to, work in the public sector. An unlimited number of scholarships are available, provided all the requirements are met, at a discount of £600 for each successful applicant.

In addition, BARBRI is offering ten Essay Competition SQE Scholarships — one full-fee, one half-fee and eight of £1,000 towards fees. To be in with a chance of securing one of these scholarships, applicants must submit an essay of no more than 1,000 words outlining how they'll make "a real difference to people's lives as a result of becoming a lawyer". When asked what makes an essay submission stand out, Dudley remarks: "the essay is not a piece of legal research — we are keen to see a much more personal insight into why they, as an individual, would make such a difference in the world as a lawyer."
Thirdly, any student awarded a first-class honours in their undergraduate degree (law or non-law), will automatically be entitled to a 50% discount on BARBRI's 10-week or 20-week SQE1 prep courses. Dudley highlights the importance of bringing "academic high-flyers" through these prep courses and into the legal profession, without costs being a barrier.
In addition to these scholarships, Dudley tells me that BARBRI has set up additional means of funding to help prospective lawyers, such as their flexible payment plan and early bird offers, associated with exam intakes. Further, BARBRI offers alumni scholarships, as a means of "providing recognition for loyalty", by enabling students a reduction in their SQE2 prep course cost if they have already undertaken their SQE1 prep course with them.
For those requiring further assistance, BARBRI is working on an "umbrella social funding programme", which will "ensure that students from all walks of life can find the right funding support to progress them through the SQE, without any financial burden sitting on top of them".
In addition to working on their own initiatives, Dudley explains that BARBRI is also promoting access to the profession through partnerships. One such example is their recent tie-up with Breaking Barriers, a London-based charity helping refugees to find meaningful employment, and magic circle firm Linklaters. Through this collaboration, the trio seek to open up access to the legal industry for refugees, by fully funding up to five refugees per year through BARBRI's SQE1 Prep course. The aim of this programme, Dudley explains, is to "help these individuals to acquire the knowledge that they need to gain access to fulfilling employment, as well as helping to bolster their skills and aspirations."
When asked why it was so important to BARBRI that these funding initiatives were made available so quickly, Dudley refers back to the key reason for the introduction of the SQE: "to open up access to the legal profession, increase diversity and promote transparency." He adds, "the legal profession needs to be more representative of society, which is something that is really important to us."
Inevitably, some students are discouraged by the cost of SQE prep courses and may feel that they don't need to take them, particularly if they have already undertaken a law degree. In response to this, Dudley refers to the current regime, asking "would you attempt to take an LPC exam without having first done a full preparation course?" He continues, "the SQE is an entirely new way of being assessed and the exams are not unique to the legal education provider itself — they are centralised exams." In this way, it would be a risk for law graduates to sit the exam both unprepared for the multiple-choice format of the questions, and unrefreshed on the content, some of which may not have been studied since the first year of their undergraduate degree!
With an infinite amount of information available on the SQE, it is no surprise that some students may be feeling overwhelmed. To those struggling to find the right prep course for them, Dudley encourages students to utilise the tools available on BARBRI's website, such as their 'SQE Calculator', which "aims to distil this information" and help individuals find the best option for them.
Dudley also urges students to get in touch when they are feeling unsure:
"Do your research and talk to us — we were the first in the market, and so we have already seen where students' main anxieties have arisen and learnt what we can offer by way of support."
He also reminds students to always attend open days where possible, as these are the best place to have your questions answered directly and meet the tutors that will be delivering the courses.
Robert Dudley, deputy managing director at BARBRI, will be speaking alongside other legal education experts at 'How to fund your SQE — with BARBRI, Linklaters, the SRA and The Law Society', a virtual student event taking place on Thursday 3 June. You can apply to attend the event, which is free, now.
About Legal Cheek Careers posts.