Ahead of 'Commercial Awareness Question Time' in London on Tuesday 19 November, Mark Richards, a partner at BCLP, reflects on his time at the firm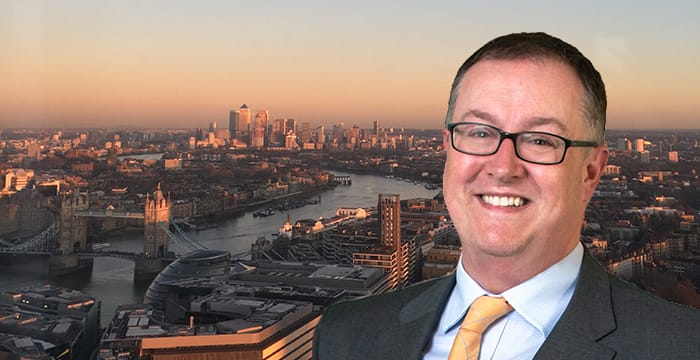 "A great commercial lawyer understands their clients' business well," says Mark Richards, partner and co-head of Bryan Cave Leighton Paisner's energy, environment and infrastructure group. Equally, great training contract applicants should aim to have a good grasp of commercial awareness.
To help with this, Richards suggests that, before they start, trainees should at least know the difference between funding sources and financing methods, and between debt and equity funding, and what the pros and cons are of each. "I would suggest they have a look at the issues affecting whatever practice sector they intend to join, do some prepping around the area and understand some of the basic terms," he says.
"They should start to think about the different motivations of each party in the transaction. For example, why does the bank want to lend money to this project, why does an investor want to invest in low carbon renewables rather than coal or vice versa? We want people not to think too narrowly about the law but about the wider commercial motivations of all the parties involved. In a large transaction such as an energy transaction, there are a whole load of groups involved — the government, distributor, investors (and investors receive money from other investors), the engineers and so forth. You should think about everyone in the supply chain, and about each party's need to protect their rights and limit their liability. If you can do that, then it will make you a much better lawyer. Part of your job is helping to brigade all those different interests into a transaction that suits your client."
Richards also thinks it would be useful for applicants to understand the various ways of charging clients, for example, fixed price, capped fees, hourly rates and other pricing models. Clients are increasingly demanding more for less from their legal advisers, and the answer to that is greater efficiency.
Unsurprisingly, the transition to a low carbon economy and the pursuit of net zero carbon targets to minimise climate change "is a mega theme for energy and infrastructure lawyers", says Richards. This will create a lot of projects and there will be a lot of commercial risks involved with the roll-out of new technology. There may also be a need for new, innovative ways of funding and organising in order to bring these projects to fruition, so there is scope for legal innovation.
"Unique to us, a lot of what we do is governed by public policy, and that creates huge opportunities for lawyers in terms of interpreting and communicating that policy. While projects are usually government-driven, the low carbon trend increases the scope for commercial markets to get involved. The drive towards a low carbon economy will encompass all sorts of areas, for example, buildings, transport, autonomous vehicles. New regulations will be needed for all of these and that creates opportunities and risks that need to be thought about by lawyers."
Trade wars also have a major impact for energy and infrastructure lawyers, as it creates a chilling effect on the market. "There has been a slowing in new project investment and that is definitely a commercial issue," says Richards. "Whenever there is uncertainty in the market, capital investments become harder to make. There are also costs issues to take into account."
Some major commercial awareness themes du jour such as Brexit and the rise of lawtech have only a small impact on large complex infrastructure and energy law. There is less demand for lawtech because there is not much commoditised work in the area of large complex infrastructure and energy project, although Richards advises that applicants should "definitely" be aware of its impact as the technology develops.
Summing up, therefore, he advises developing "a good understanding of the basic building blocks not just of law but the financial impact of transactions that you are working on, and the ability to document those. You will need to have an understanding of financial transactions, of how deals can be structured in a bankable way, risks assumed by each party and to have some technical understanding of the project — enough to be able to at least talk about it with the people involved."
Richards joined Berwin Leighton in 1997 as a trainee, qualified two years later, became a partner in 2006 and co-head of his division in 2016. He is also dual qualified in the US.
He was quick to choose his path in the profession. "From the word go I planned to be a projects and infrastructure lawyer. What I like about my job is working on large, complicated transactions with multiple stakeholders, where you have a team ethos and are connecting with a wide number of people. It is great to see the finished result — to have something tangible at the end of the day in terms of a finished project."
His advice for newbies, however, is "in terms of practice areas, try to have as broad a base training contract as possible, and follow your instincts. A career in law is a marathon not a sprint, and you want to be able to do something that you enjoy. Make sure you pick an area that you like working in rather than picking it because you enjoy working with the people that do it, because those people can move on." In terms of choosing a firm, Richards says:
"You can't underestimate the importance of a firm's culture. By this I mean its friendliness, approachability, support and attitude to work, for example, whether it offers flexible or agile working, its attitude to diversity and inclusivity. In my view, this is really important and I truly appreciate it at BCLP."
Mark Richards will be speaking alongside lawyers from Gowling WLG, Ropes & Gray and Squire Patton Boggs, as well as a legal education expert from BARBRI, at our 'Commercial Awareness Question Time' event in London on Tuesday 19 November. You can apply to attend the event, which is free, now.
About Legal Cheek Careers posts.