Ahead of her appearance at this month's virtual student event, Slaughter and May partner Jane Edwarde discusses the firm's focus on creating a supportive and welcoming culture and its new social mobility targets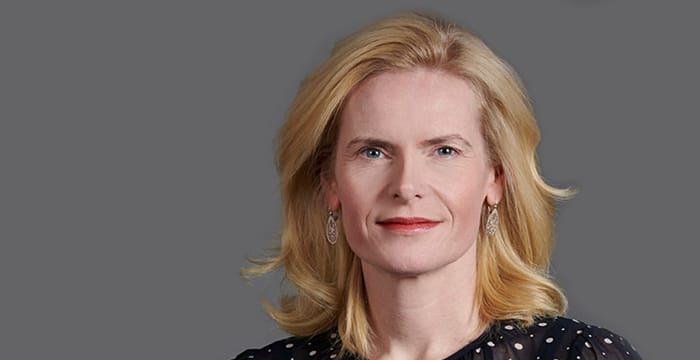 Slaughter and May's Jane Edwarde trained and qualified in Scotland before making the switch to the bright lights of London in 2001 — a change she thought would only be short-term at the time.
 Fast-forward to today and Edwarde wears several hats at the Magic Circle firm. She is involved in trainee recruitment, is a diversity and inclusion partner, as well as a sponsoring partner for Collaborate, Slaughter and May's legal tech programme. "I don't think I would find other jobs or firms that are as interesting", notes Edwarde, who on top of all this also heads up the firm's busy real estate team.
As one of the firm's two diversity and inclusion (D&I) partners, Edwarde says that her role entails responsibility for the firm's overall D&I strategy, working closely with a dedicated team to implement this. "A very important part of this is to understand the data within the firm and track our initiatives against the targets we have set for ourselves", she explains.
With Slaughter and May having announced social mobility targets in July 2023, aiming to boost representation of individuals from lower socioeconomic backgrounds, I asked Edwarde for her thoughts on this. "We set partnership targets for gender and ethnic minority promotions some time ago — but the social mobility targets are different in that they're not just partnership promotion targets. Looking solely at these numbers is too small a slice, so what we needed was a more holistic approach which applies to the firm as a whole," explains Edwarde.
Expanding on this further, she notes that most of the initiatives revolve around recruitment. "We don't do a lot of lateral recruitment of lawyers, either for associates or partners, so we very much rely on our trainee intakes every year to produce many of our future partners", Edwarde says.
"There's a lot of focus around how we recruit and how the universities themselves are doing in terms of social mobility," she continues. "We're thinking about how we can work more closely with each of the universities we recruit from, to ensure we reach as wide a talent pool as possible and to make sure we are speaking with the right teams who understand their data and what can be done to increase diversity."
"At the end of the day, we're all pushing in the same direction. It's just a question of linking up with the right people at the universities, so that we are coordinated," Edwarde says.
Slaughter and May will track social mobility as defined by the government test of parental occupation at age 14. However, it will collect more data than this and endeavour to recruit diverse talent in a wider sense. The firm has a long-standing relationship with diversity organisation Rare Recruitment. "They are excellent. They flag diverse candidates on a much wider basis than the 'parental occupation at 14' test, and it's a great way for us to attract good quality candidates. As exclusive sponsors of their Law Springboard programme, we also work very closely with upReach to improve access to the legal sector for high potential undergraduates from less-advantaged backgrounds."
So what is it actually like to work at Slaughter and May? "I always think that the culture of every firm is different, but it's very difficult to assess this from just reading the websites." She goes on to offer tips on how students can go about evaluating what the culture is likely to be like.
"The most telling way to do this is to look at some of the key strategic decisions the firm has taken. For example, if it's got a heavy billable hours culture, then it's likely to be a bit more competitive," Edwarde suggests. As for Slaughter and May, she notes that it "does not have billable hours targets that drive remuneration or performance reviews" and as a result, "it's very collegiate and people are genuinely happy to share, help and have open doors".
With a unique international strategy, the firm sends trainees on secondment to both its offices and market-leading law firms it works with overseas. "This is a different experience for trainees, to see what it's like at a thriving, independent firm with its own culture and reputation", Edwarde says.
Another standout of Slaughter and May's culture for Edwarde is the firm's training programme. "We're a firm that invests very highly in training — our learning and development is of the highest quality, and part of this is the series of diversity awareness programmes we run," she says. "A firm's investment into these initiatives as part of its training is also a symbol of its culture, and tells students about what is a priority for the firm."
Edwarde also emphasises that Slaughter and May seeks "multi-specialist, rather than highly-specialised lawyers". This provides the opportunity to build closer relationships with clients, according to Edwarde, "as you don't need a team of twenty lawyers to advise on a matter — instead, there is the expectation that you will become a client's highly-trusted advisor".
"There's a huge range of personalities at Slaughter and May", says Edwarde pointing to the firm's 50-50 split (roughly) intake in law and non-law grads. "We have students coming in with a wide range of degrees from many different universities, and this makes us very educationally diverse. "This isn't just important for the culture of the firm – but it's also crucial to what clients want, since they are coming from a range of different sectors and want varied expertise and perspectives."
So what does Edwarde's day-to-day in the real estate team look like? "It's a really nice mix of work. Development work is my favourite area, because it is so tangible. But I also like the fast pace of buying and selling investment properties, and leasing and occupational strategy work too. I am currently working on some interesting real estate financing deals which are complex and new", she says.
She tells me about her current work acting for the developer of a thermal spa resort, Therme. With operating resorts elsewhere in Europe, they are looking to open their first UK resort in Manchester. "We've done all the legal work for assembling the site, negotiating a lease with the landowner, as well as development advice regarding the planning permission and procurement of the works — it's been a really interesting project to work on," sums up Edwarde.
Offering her advice to those hoping to secure a training contract, Edwarde's top tip is to "be authentic". She suggests doing this by taking the time to "think about how you can express your interest and enthusiasm most truthfully". This is central, she believes, to being able to articulate at interview why you will find the job interesting. "You need to understand the job first, and ensure that it is going to suit you. This involves talking to family and friends about your strengths and challenges, and thinking about whether the role will suit you temperamentally," advises Edwarde.
Jane Edwarde will be speaking at 'What does a world of difference look like – with Slaughter and May', a virtual student event taking place on 19 September 2023. Apply now.
About Legal Cheek Careers posts.