BARBRI's Professor Samuel Farkas on what we can glean from the global training provider's US model and how it will shape its SQE plans, ahead of his virtual appearance at LegalEdCon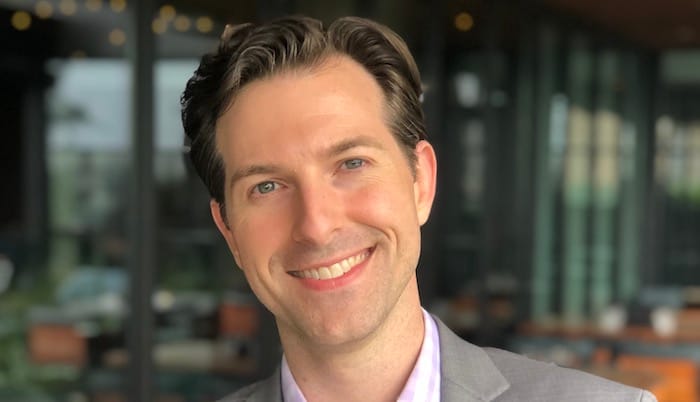 A paradigm shift is underway in legal education and training. The traditional passive listen-and-learn approach is being swept away in place of online learning — technology-rich pedagogy that is steadily being adopted by law schools to enhance the student learning experience.
BARBRI has a foothold in the legal education market. The global training provider has over five decades expertise preparing students to pass professional exams and spent the last decade committed to developing an innovative learning process.
"We're heavily invested in developing effective technological infrastructure to produce strong learning outcomes for students," Professor Samuel Farkas, vice president of instruction and online education at BARBRI, Florida, tells me when we speak.

Farkas advocates a 'lean forward' approach to online learning. He explains that BARBRI students aren't sitting passively in their chairs watching pre-recorded lectures online; they're genuinely immersed in the learning experience and 'lean forward' to engage with content. Think of it like watching a videotape of a wedding you weren't invited to. The 'push and play' process is likely to be disenchanting which is what BARBRI has broken away from.
The BARBRI learning experience is interactive: as students learn concepts, they're immediately invited to test their understanding in segments throughout the training programme. The system draws on user data and feedback to identify knowledge gaps and curate course content to better serve individual learners and ensure they achieve their learning outcomes.
There are merits to this teaching approach. It creates an environment where students are in control of their own learning and offers them a more flexible, personalised learning experience. The traditional law schools tend to teach students in lectures and large workshops, a one-size-fits-all approach that assumes every student learns in the same way. BARBRI students are taught individually at a pace that suits them: they can pause, replay, fast-forward and rewind content. Plus one-to-one study mentors and online support sessions elevate the learning experience.
There is evidence to suggest online learning not only matches classroom teaching but can even be more effective. A Harvard Education study (published 4 September 2019 in the Proceedings of the National Academy of Sciences) has shown that active learning significantly improves memory and retention when compared with traditional lectures. The authors of the Harvard study found that students felt as if they learned more from the lectures, but in fact scored higher on tests following the active learning sessions.
The COVID-19 crisis has ushered in a digital revolution in teaching. Online learning has come to the fore as law schools grapple with tech to move from traditional lecture theatres to online classes and make alternative assessment arrangements through remote proctoring. For BARBRI the transition has been relatively straightforward. BARBRI's online learning chief draws a distinction between the piecemeal remote delivery of teaching brought by necessity, with the integrated systems afforded by established market players:
"Our approach to online learning is deliberate and architected. It encompasses months of well thought out e-learning content — it's not put together quickly. We use technologists and instructional designers to build content to enable seamless delivery."
Farkas is adamant that the pandemic will bring a lasting cultural change in higher education as individuals have begun to recognise how tech can truly enhance the learning experience.
BARBRI has made no secret of its intention to enter the Solicitors Qualifying Exam (SQE) market. Its preparatory course for the US bar exam and, in the UK, the Qualified Lawyers Transfer Scheme (QLTS), mirror the proposed multiple-choice question format of SQE1.
The new entrant's SQE approach will be informed with a pedigree from its "tried and tested" digital US model. The SQE is not prescriptive — there is no fixed curriculum beyond the requirement that students are prepared to pass the Solicitors Regulation Authority's (SRA) centrally set exams. This provides an opportunity for course designers to develop and deliver innovative SQE prep courses, and BARBRI will adopt a blended learning approach drawing on its existing strength in tech to prepare future lawyers for the demands of modern legal practice.
Further, BARBRI envisions running the SQE virtually in a more efficient way that will boost access to the profession, an objective heralded by the SRA, and also save students money. It has already built the learning technology which it will utilise in the SQE Prep by BARBRI and won't be passing on the technology costs to students.
Looking to the future Farkas envisages further investment in BARBRI's tech-enabled teaching programmes. He concludes:
"Tech and innovation is driving so much of what we do — providing new capabilities and transforming how we provide online instruction. We will continue to make investments in artificial intelligence and infrastructure to create a better learning experience for students."
Samuel Farkas will be speaking at LegalEdCon 2020, a virtual event, on Thursday 14 May. Final release tickets are available to purchase.
About Legal Cheek Careers posts.