Ahead of The University of Law's 'How to make it as a barrister' event in London tonight, Legal Cheek Careers caught up with ULaw future pupil programme coordinator Mark Jones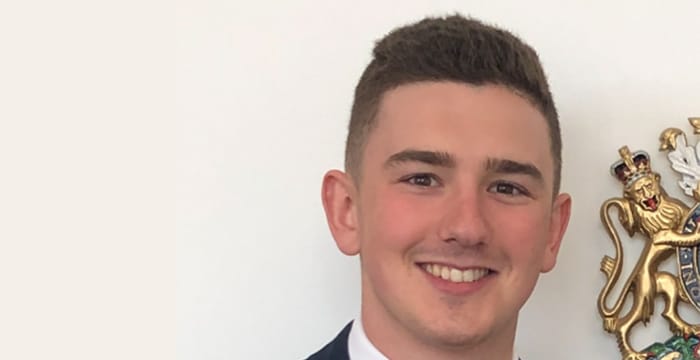 "It sounds clichéd but when you go into the interview process, you need to be yourself," says future pupil barrister Mark Jones, who secured his "number one chambers" for pupillage — No5 Chambers in Birmingham — after making 12 applications, from which he was "absolutely delighted" to receive nine invitations to interview.
He says: "The people who are interviewing you do this for a living and they can see through any persona you put on. The most successful parts of my interviews were where I was myself and the conversation flowed naturally, I gave my answer then a question came off the answer. You can't always give your best performance or find perfect responses but if you're honest and authentic, you will give yourself the best chance."
That's not to say there weren't some awkward moments. "In the first round of interviews they want to get to know more about you and your experiences, so you need to be really familiar with your application and reasons for going to the bar," says Jones. "At the second round, the questions tend to be more specific. They may ask you ethical questions or about your favourite case or what you would change about the law."
I had on my application that I played Danny Zuko in a school production of Grease (originally played by John Travolta, love interest of Olivia Newton-John's Sandy, in the 1978 film). They asked the question: 'Danny sexually assaulted Sandy. What three points in mitigation would you plead on Danny's behalf?'. The answer Jones gave was to ask if Danny had pleaded guilty or not guilty, as that wasn't made clear in the question, and suggest investigating whether there was any remorse on Danny's part as well as looking at his previous behaviour for evidence of good character.
Jones, who intends to practise family law, was also asked about topical issues in the news at the time of his interviews, including: no-fault divorce; knife crime (causes of it, and strategies for dealing with it); and whether Shamima Begum, who was a 15-year-old London schoolgirl from Bethnal Green when she ran off to Syria to join ISIS and has since had her British citizenship revoked, should be allowed back into the UK. Another question was: 'If you had £100 million, where would you go and why?' Jones, who was born in Alabama but grew up in Wales, said he would go to Las Vegas. He was asked about legal aid only once, even though this is a hot topic in family law, while Brexit didn't come up at all.
He has always wanted to practise family law and decided to become a barrister while on a summer job at Watkins and Gunn Solicitors, where he attended court and client meetings on family law matters as well as "the handover" conferences between solicitor and barrister (these were the "tipping point" for his decision). He has a robust CV of work experience and mini-pupillages, having done similar work during a two-week stint at Hugh James solicitors in Cardiff, and completed three week's work experience on a range of legal areas at Eversheds Sutherland, Cardiff. He has also enjoyed four mini-pupillages at Cornwall Street Barristers, Cathedral Chambers, St Ives Chambers and 9 Park Place Chambers, and shadowed a judge at Newport Immigration Tribunal for four weeks in 2017.
His applications were focused by his desire to work outside of London and to specialise in family law. "It's a tough process, really competitive," he says. "You need to spend one or two days writing each application, and be selective about where you apply. If you want to practise in London then you will have more choice. I love Birmingham so I was super-keen to practise there. Cardiff was also a natural choice for me." Jones is a graduate of Birmingham University and The University of Law, Birmingham. "It's best to start by writing a good CV. Once you've done that it can form the basis of your individual applications", he adds.
Jones suggests that people apply for pupillage before they do ULaw's Bar Practice Course (previously known as the BPTC). "I didn't do this myself but I would recommend it, it's the sensible thing to do", he explains. He sent off his applications in January 2019, and the offers were released in April and May. He was called to the bar at Gray's Inn in November, and is working as The University of Law's future pupillage programme co-ordinator for a year before beginning pupillage. The job involves travelling around the country, speaking to students about his experiences, encouraging them to go to the bar and helping the current cohort with mock interviews and applications.
"People can have misconceptions about the bar," he says. "I'm from a family with no lawyers whatsoever so I can anticipate some of these misconceptions, for example, people think they need a first, or think they can't do it because they didn't go to a top university." He continues:
"I'm 22 years old so I've had a fairly traditional route but a wide range of people do the BPC: people in their 40s and 50s who are changing careers, or who join the armed forces and go to the bar afterwards. There was one student on my course who had been a teacher for ten or 15 years, so there's a wide variety of applicant."
Mark Jones, future pupillage programme co-ordinator at The University of Law, is due to start pupillage at No5 Chambers, Birmingham in October 2020. He will be speaking at 'How to make it as a barrister' held at ULaw's Bloomsbury campus in London this evening. Check out the full speaker roster here. You can apply to attend the event, which is free, now.