Ahead of 'Commercial Awareness Question Time' in London on Tuesday 19 November, Michael Luckman, an intellectual property partner at Gowling WLG, reflects on trainee life in the eighties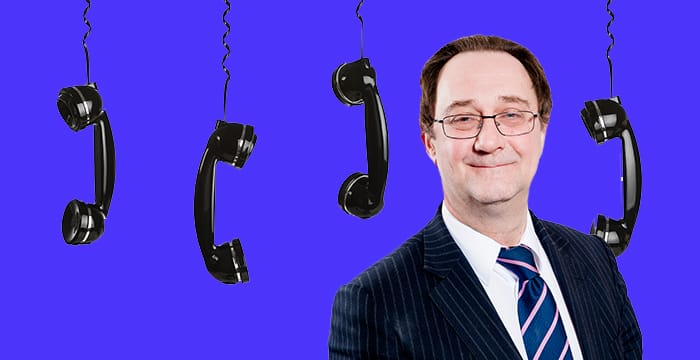 It may come as a surprise to some of our readers that when Michael Luckman started his training contract the internet had not yet been invented.
That was over three decades ago, in 1983, when "telephones had rotary dials" and mobile phones were "a rarity". So rare, in fact, that Luckman vividly recalls his first sighting of one:
"It was in London, just outside of the Bank of England, where someone was walking around, carrying a big black box over his shoulder with a connecting strap to the handset which sat atop the box. It had actual buttons you had to press and a battery life of about two hours — clearly quite a lot has changed since then."
And there weren't even fax machines for that matter. Though they had been invented, the fax machine only became widely used in the late eighties. Before then, "we'd use telex!" quips Luckman, who also used a computer for the first time as a trainee. "The display would show as green print and only four of us were allowed to use one — I was one of them and felt incredibly privileged," he recalls.
Born and bred in England's West Country, Luckman's journey into law began at Exeter University. He met his wife there (she's an IP lawyer, too) and, although he enjoyed learning the law, he wasn't originally convinced about a career in legal practice. The idea of sitting in a "dusty room dealing with trust deeds" didn't appeal, he says. But that soon changed when he was introduced to intellectual property law in his final year. "The subject matter is just so damn interesting," he tells me when we speak. "There's a real life context: whether it's the rights to a book, music, computer software or a drug compound you are seeking to protect, the subject matter is relatable and either creative or innovative — in both cases interesting."
In those days, "if you wanted to be a lawyer — you went to the City". And so after he passed his solicitor training at the University of the West of England, Luckman joined London law firm Simmons & Simmons, and eventually qualified in intellectual property law. On his decision to do so, Luckman, whose expertise spans life sciences, technology and brands, says: "The ability to advise, for example, a scientist developing a drug for the treatment of a disease or a business manufacturing an electrical gizmo appealed to me."
He stayed at Simmons for more years before joining magic circle member Slaughter and May in 1989. He and his wife then decided, after some time, to start a family, and although he "loved" his time in London, it wasn't the city he envisaged raising children.
Birmingham, the UK's second-largest city, seemed the obvious choice for Luckman because, at the time, IP was "a fairly niche area and not many firms away from London practised it". He took partnership in 2001 with Wragge & Co after a brief spell at Edge Ellison, the legacy firm, which through a series of mergers, has now become Squire Patton Boggs. He became group leader of Wragge & Co's finance, projects and technology group in 2007, a role which saw him split his time between fee-earning and firm governance. As of 2015, he represents the interests of 115 solicitors as head of the commercial, employment, pensions and projects practice, one of four groups in the firm which has now become Gowling WLG. He also sits on the firm's UK Board.
Reflecting on his time spent lawyering in both cities, London and Birmingham, Luckman says: "There wasn't much choice when I was a trainee — you either did City of London or provincial work. There was a clear distinction between the two; the work in the provinces wasn't of a lesser quality, it was just different. Over the course of my lifetime, however, that distinction has significantly ground down. It has been a combination of the expertise of provincial firms increasing, as well as the sophistication and savviness of clients understanding the cost difference between using a City or regional-based firm that does national, and international, work. It's now a very real option for trainees to choose a firm away from the City but still get good training and potentially, an even better one, given the smaller cohorts."
Luckman will be speaking at next week's Legal Cheek event in London. Ahead of his appearance at the event, which is on the theme of commercial awareness, he offers readers this advice:
"It can be hard for a 21-year-old with little in the way of life experience to demonstrate commercial nous to a gold standard. But there's no doubt commercial savviness is important. Knowledge of the law is quite a way at the bottom of the pile — it's just the backdrop on which all other skills sit on top. The principal role of a lawyer is to solve problems for clients, and to do that you must understand the commercial context in which they operate. The lawyer then translates the relevant law to meet the clients' business objectives."
One way to develop this skill is through work experience, whether legal or otherwise, he advises. "If you want to be a commercial lawyer then getting a sense of what life is like on the frontline in a commercial law firm is important." He recommends students read the news — not just to assimilate facts but to gain a wide view on the goings-on in the business world. And make this a habit, he says, it's not something to be done the day before a training contract interview — "there's no point discussing yesterday's story at interview if you haven't considered the issues behind the story beforehand."
But, he concludes, "don't get downhearted if things don't pan out the way you want. The sun will rise tomorrow, you'll have another day to learn from what made you miserable the day before, and remember: everyone else is not doing better than you just because they say they are on social media!"
Michael Luckman will be speaking alongside lawyers from Bryan Cave Leighton Paisner, Ropes & Gray and Squire Patton Boggs, as well as a legal education expert from BARBRI, at our 'Commercial Awareness Question Time' event in London on Tuesday 19 November. This event is now fully booked, however you can still apply to be added to the waiting list.
About Legal Cheek Careers posts.