Addleshaw Goddard's innovation manager reflects on his path into law and what AI means for lawyers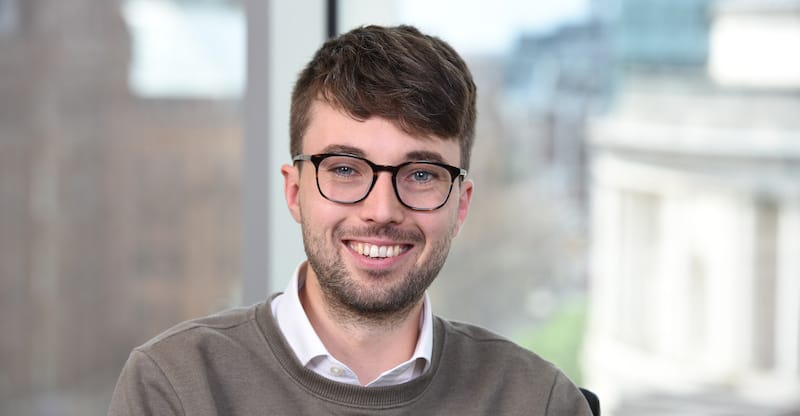 It was an unconventional career journey for Michael Kennedy, senior manager in the innovation and legal technology team at Addleshaw Goddard. After graduating with a law degree from Kent, he stumbled upon a paralegal position at the firm, where he often carried out work that he thought could be done more efficiently with technology or improved processes. This slowly transformed into a full-blown passion for innovation, an area where Kennedy has chosen to stay more than eight years on.
"I remember that the firm was still setting up the innovation team when I was a paralegal and they were looking for more hands-on involvement which is where I came in," says Kennedy. "My paralegal role later converted to a training contract, by which time I had found my calling for innovation and so I decided to balance both the roles."
Splitting time between his usual training contract seats and the legal tech work was not straightforward. "At the time, there were three legal trainees at the firm who were also a part of the innovation team. As one of us would do a training seat, the remaining two would stay back and work towards innovating our legal service delivery. This ensured that all of us had a chance to do everything," says Kennedy. "We essentially looked at the Solicitors Regulation Authority's (SRA) qualification standards and worked our way backward to ensure that we could complete our training while not compromising on innovation work."
Now, of course, the innovation team at Addleshaw is much bigger and is offered as a standalone seat as part of the traditional training contract. The firm also runs a legal technology and innovation scheme, which is a two-year graduate program running parallel to its training contract offering.
Working with lawyers to build legal tech tools
As a senior manager on the innovation team's research and development division, Kennedy often conducts horizon scans for emerging technologies.
"We research about what is coming up in the commercial world, and what problems we have as a firm that can be improved through technology," he tells me. "We also chat with clients to learn about their concerns. Once we have this knowledge, we try to leverage technology such as Generative Artificial Intelligence (Gen AI) and machine learning tools, to build products that solve those problems."
Perhaps unsurprisingly, building legal tech tools often requires collaborating with lawyers across the firm's full-service offering. When we speak, Kennedy tells me that one of the projects keeping him busy is running team-by-team "ideation sessions" for different practice groups at the firm. "We sit with each legal team and look at some ideas where AI could improve their work. We run them through some demos and then brainstorm whether this could be a fruitful feature to capitalise on." Once the lawyers are happy with the tool, the ILT team will start the roll out process, building anything necessary and start working with AG lawyers to drive adoption.
"One tool that we recently delivered on was focused on simplifying advising our clients on changing regulations in the commercial world," says Kennedy. "Our lawyers proposed a product that would ask clients a series of questions to assess whether their business would be 'high risk' or 'low risk' in the context of the new financial services regulations. In the product's development phase, we again took support from specialist lawyers from different areas. If the question pertained to real estate disputes, for example, we would interview a lawyer in that group to frame a particular question for the client."
Using ChatGPT, but in a secure way
It is not a surprise that the most wide-scale AI application, ChatGPT, has made a significant impact on the legal sector. "The launch of ChatGPT was the most excited we have seen lawyers about the potential of technology in their work," Kennedy remarks.
He continues to tell me about the firm's efforts to capitalise on ChatGPT to improve legal advice.
"ChatGPT impacts firms like ours in many ways," he says. "Since it raises concerns around data privacy and localisation, we quickly drafted an internal firm policy to regulate its usage. We also spoke to our suppliers and vendors in the market to understand how they were using the tool. We then launched our own version of the platform, AGPT, which is based in a much more secure environment, thus allowing lawyers to use it with confidential information pertaining to our clients. At the minute, we have over 150 lawyers that are a part of our working group testing these Gen AI tools, with AGPT now being rolled out firm-wide. The feedback we receive means we can continue making it better equipped to handle our work."
AGPT helps Addleshaw lawyers in a variety of ways. "It can detect things like red flags in a lease document or the key risks in a share purchase agreement. When you have hundreds of documents, you can simply ask an AI tool specific questions like 'Is there a limitation of liability in any of these documents?', and it will condense that search for you."
Would AI replace lawyers?
But adoption of these functions by legal tech tools might not be enough to render lawyers jobless. "Law is a very human-oriented profession and people skills are at the heart of what we do," says Kennedy, further explaining that AI can "only supplement, and not replace, the work of lawyers. A lot of what we do is to provide legal advice in very specific contexts and AI cannot assume that function."
"Where AI can be used is in automating tasks like document review and drafting. If lawyers had to review, say, 400 documents for a large matter, it would take many days. With machine learning, we would run it through a software first which can reduce the search to, say, five or ten relevant documents which lawyers can then give a detailed review. Used in this way, legal tech allows clients to get more value for their money as lawyers spend their time more effectively," says Kennedy.
Ahead of his appearance at tomorrow's Legal Cheek event, Kennedy also shares his advice for those interested in applying for Addleshaw's technologist program. "We are looking for people who are interested and enthusiastic about the work we do. Often, this passion is demonstrated at graduate events where students who are asking smart questions really stand out. Ultimately, we will train you for everything so all we are really looking for at this stage is potential!"
Michael Kennedy will be speaking at 'Generative AI: opportunities and challenges — with Addleshaw Goddard', an in-person student event taking place tomorrow (13 October). Places for this event are now fully booked, but check out our other upcoming events.
About Legal Cheek Careers posts.