Callum Martin shares his tips whilst studying BPP's SQE-LLM course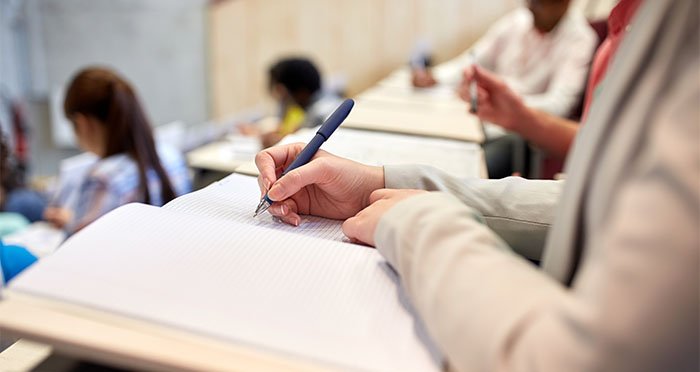 Who better to discuss the Solicitors Qualifying Exam (SQE) with than someone who is currently undertaking it?
BPP University Law School student Callum Martin sailed through SQE1 and is now awaiting the results from his recent SQE2 sitting. After his recent appearance at BPP's 'How to choose an SQE preparation course' event he agreed to offer Legal Cheek readers his advice on all things SQE.
What stage are you at in your SQE studies and how are you finding it so far?
The assessments for my LLM at BPP are separate to the external SQE assessments. At BPP, I passed the SQE1 part of my LLM with a distinction and I am currently awaiting my BPP SQE2 results whilst undertaking the Essentials for Practice component of my LLM.
Regarding the centralised assessments, I passed the Solicitor Regulation Authority (SRA)'s SQE1 in January 2023. I was placed in the top quintile (i.e. top 20%) for paper one and the second quintile for paper two. I am currently awaiting the results of the SRA's SQE2, which I undertook at the start of May.
The studies and exams are certainly challenging, SQE1 particularly due to the breadth of new knowledge I needed to learn. To combat this, BPP's teaching consists of tutors with legal practice experience leading workshops where you collaborate with your peers on the information that you learn in preparation for each workshop. This approach provides a high standard of teaching that thoroughly prepares you to sit the external exams.

What advice would you give to students about to embark on the SQE?
Be organised and be realistic.
There is a lot of information that you need to process and learn throughout the SQE and it is essential that you remain organised in yourself and your notes so that you can build up your foundation of knowledge as efficiently and easily as possible.
You also need to stay realistic: there are only so many hours in a day and you need to maintain your wellbeing. Keeping a sense of realism ensures any goals you set are achievable and you hit your targets — whether that's completing work by a certain time or giving yourself the evening off to relax and maintain positive wellbeing.
You're studying at BPP University Law School, how can students get the most from BPP's SQE courses?
Spend some time at the start of the course getting to grips with BPP's learning platforms and education technology — the Hub, BPP Adapt and the Virtual Practice Environment. An understanding of how you will use these platforms early will ensure a smooth transition into your SQE studies.
Once you have done this, from day one, with the comprehensive content BPP provides, you will build up the knowledge, information and skills you need to maximise your chances of passing your assessments. The practice multiple choice questions are particularly useful as there is an extensive amount available and these are in the same format as you will encounter in both BPP's and the SRA's SQE1 assessments. If you immerse yourself in this material, you will get the most from BPP's SQE courses.
You're also studying for an LLM, how are you finding studying this alongside the SQE?
My LLM at BPP consists of three components: a SQE1 prep course; a SQE2 prep course; and an Essentials for Practice component. Both the SQE1 and 2 preparation courses are designed to be studied in the months prior to the SRA's centralised assessments, which I found extremely useful. Through this approach, you develop the required knowledge at an appropriate stage, frequently examine this knowledge to gauge your progress, and this culminates in good time to consolidate and revise for the centralised SQE assessments.
Providing you take the centralised assessments in the assessment dates immediately after the preparation courses, the Essentials for Practice component comes afterwards. This enabled me to focus entirely on the specialised content that I have chosen to study without the pressures of any centralised assessments in the background. I have found that this increases my capacity and focus to learn, in turn allowing me to fully interact with the content.
You secured a full BPP scholarship for your LLM, can you tell us about the application process?
The application process at BPP is straightforward and with such an extensive and generous scholarship fund I would strongly advise applying as soon as you get your offer from BPP.
The process initially requires you to answer questions about yourself and your journey. This is your opportunity to demonstrate certain strengths that BPP is looking for, such as resilience, dedication and strong academics. If you are successful at this stage, you are awarded a partial scholarship. Certain candidates are then selected to complete an additional task for certain full-fee scholarships. My task required submitting a 1,500 word essay and I had around ten days to submit it. I was then contacted regarding the outcome of this application.
You have secured two-years of Qualifying Work Experience (QWE) with Gibraltar-based international firm Hassans. What advice would you give to students currently in the application process?
My best advice would be to initially spend some time working out what you truly want from your career and what you want from life in general. Once you have decided on this, you will be able to write and speak with passion and enthusiasm during the application processes to the firms that you want to work for. Ultimately, alongside your academics, it is this passion and enthusiasm towards a firm that will help to convince recruiters of your commitment to them and make your application stand out. I adopted this approach when deciding where I wanted to pursue a career, enabling my application to stand out when successfully applying for a vacation scheme and subsequently two years of QWE at Hassans.
About Legal Cheek Careers posts.