The Liverpool legal scene is going from strength to strength
Reflections from Legal Cheek's north-western careers discussion featuring a panel of top lawyers from the area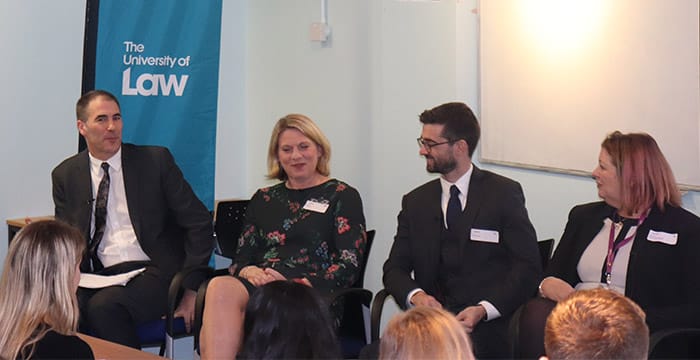 At the north-western leg of Legal Cheek and the University of Law's (ULaw) student careers and commercial awareness 'Secrets to Success' series, Weightmans partner and Liverpool office head Steve Peacock; Hill Dickinson director of human resources Sarah Pickerill; Exchange Chambers barrister Tom Clarke; and ULaw Liverpool campus dean Carol Draycott came together to discuss the rise of the Liverpool legal market and what students should be thinking about as they apply to firms and chambers in the city.
Liverpool is the place to be
A key takeaway from Legal Cheek's first Merseyside event was that the Liverpool legal scene has changed significantly in recent years. "It's a fantastic place for trainees to start their careers and has a lot to offer," Hill Dickinson's Pickerill told the audience of over 70 students. "It used to be the case that students would want to train in nearby Manchester, despite living in Liverpool, but the city has really established itself over the last few years," she added. Indeed, Liverpudlian native Hill Dickinson has a well-established presence in the city, with a strong network of trainees that perform consistently through the ranks — the firm's recent retention score of 90% is evidence to that effect. Liverpool-headquartered Weightmans also has a significance presence in the city; its roots can be traced back to the nineteenth century.
"I grew up in Manchester and later moved to Liverpool. It would feel very strange not to have water surrounding me now!" quipped Exchange Chambers' Clarke, in reference to the city's historic waterfront and plethora of docks dotted around the region. "I work all over the North and honestly, wouldn't prefer to live anywhere else other than Liverpool — especially since Exchange's original office was in Liverpool."
What's more, ULaw's launch in Liverpool last year to a cohort of around 75 students is a further nod to the rise of the region.
The Liverpool legal scene is thriving
Law isn't limited to London. Lawyering is on the rise in the North West. Top-rated tech practice Taylor Wessing opened an office in Liverpool last September and global elite player CMS earlier this month. US outfit Sanders Phillips Grossman set up shop in Liverpool last autumn for a slice of the UK claims arising from the Volkswagen emissions scandal. "There are huge litigations going on and top-drawer work is being sent out to firms and chambers in the region," said Clarke.
National players Weightmans and Hill Dickinson also have an international reach. Hill Dickinson is strongly anchored in its marine, health and commercial work, across a string of international offices in Piraeus (Greece), Monaco, Singapore and Hong Kong. The health sector is a fast-growing area for the firm whose biggest client is the NHS and Pickerill explained that there's even a dedicated healthcare-focused training contract. Weightmans employment law partner Peacock revealed that his department has a contract with Royal Mail that covers employment cases nationwide. This means that Royal Mail employment tribunal claims issued anywhere in England & Wales are covered by a team based in Liverpool. Not bad for a legal centre, which Peacock pithily summed up as "top quality volume work coming into a cheap costs centre with lots of great lawyers".
"Liverpool is very much a city that looks outwards," said junior barrister Clarke. "Our courts deal with the most cases in terms of throughput." Indeed, Liverpool's Crown Court, the Queen Elizabeth II Law Courts in Derby Square, is one of the busiest law centres in England. "This is extremely valuable for a young barrister getting their foot in the door," he acknowledged.
The North West has historically been known for its civil litigation cases, particularly claims arising from personal injury. For Clarke, a specialist in criminal law and personal injury, this is a good place to be. "When you study the law of negligence, a lot of the 'slips and trips' cases relate to Liverpool. They've set the precedent for the country. Liverpool is the place to be if you want to be in front of the judges who formulated the law," he said.
ULaw dean for the Chester and Liverpool campuses Draycott was a judge for the Liverpool Law Society's Legal Awards last year. "I was completely blown away by the breadth of work on offer in the city," she said. From high-end commercial matters to more specialist, niche work, "we've got the whole scope of legal work covered", she explained. Students mustn't forget there's in-house solicitor work available, too. "In a city that is thriving like Liverpool there are going to be lots of companies that have in-house legal departments — both football clubs (Liverpool and Everton F.C.) have one, for example, and that will only increase the choice of work for students entering the profession," said the former family law solicitor.
Sometimes a career in law has very little to do with the law
"I was never very academic! What I enjoyed was interacting with people," said former University of Liverpool law grad and Weightmans Liverpool office head Peacock, who has spent his entire professional career at the firm. He continued:
"In employment law, you're dealing with real people with real life issues. If you think about it, work is why most people get up in the morning, it's the structure to most people's week and it will also be their source of income. If that is taken away it is a big deal for both the employer and employee and finding a resolution to that dynamic situation is important for all parties to the dispute. You don't need to know much about the law to do that which is what hooked me into this people-oriented area of law."
When picking a practice area to eventually specialise in, it helps to have an idea of your personal qualities. Oxford history grad Clarke completed a common law pupillage at Exchange which enabled him to experience a broad range of practice areas, notably criminal and personal injury. "One day I might be sitting on a prison chair nailed down to the floor, a panic button to my right, conversing with a 6' 4" defendant, and the next, I'll be dealing with a civil fast-track road traffic accident claim. It's about meeting people from all walks of life under different circumstances and dealing with their issues — the law often has very little to do with that," he shared.
What makes a successful trainee?
It isn't what modules you take. "Law firms generally do not mind which modules you take during law school," noted ULaw's Draycott, "unless you have a training contract, in which case they'll often prescribe the ones to take." This was echoed by Pickerill: "Until you complete your seat in a particular practice area, it's difficult to say you enjoy it on paper!"
Nor is it the university you studied at. Liverpool is home to a rich mix of universities, and Pickerill, who has over two decades of experience working in HR, finds it difficult to focus the firm's recruitment strategy based on university statistics. "The best trainees are the best applicants — regardless of which uni they studied at," she said. What Hill Dickinson is looking for is passion, commitment, drive and a breadth of experience to demonstrate such attributes. "Our clients want personalities — they don't want a summary of the latest statute."
The baseline for recruitment at regional chambers Exchange is, of course, stellar academics. But Clarke said pupillage hunters should think about what sets them apart, in terms of their work experience and achievements outside academics. "Think about what it is you can put on a page that brings it alive when someone reads it," he advised.