From financing innovative tech solutions in Rwanda to working on large-scale solar energy projects, Norton Rose Fulbright lawyer Rosa Mottershead reflects on her career to date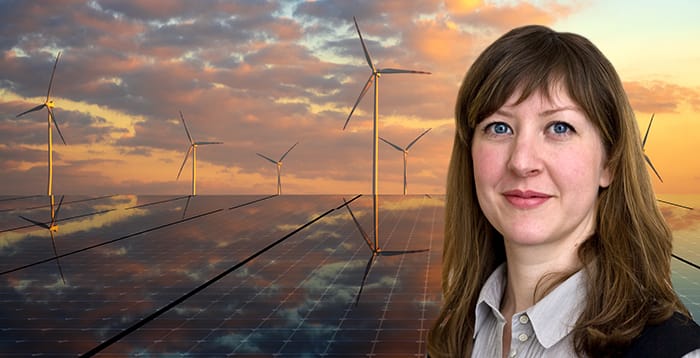 "My most memorable project to date has to be the extraction of methane from a lake in Rwanda, to be used to generate electricity. That was all very experimental and involved constructing new technology in a remote part of Rwanda, to provide much-needed electricity, as well as reducing the risk of explosions from the lake. It was fascinating," says Rosa Mottershead, an energy project finance lawyer at Norton Rose Fulbright.
Mottershead, who is based in the firm's London office but commutes in from Cambridge three days a week, will often spend time travelling far and wide on long-standing energy projects. That has slowed since having her two children but the opportunity is still there for the taking. Since that project in Rwanda, she has continued to work on energy projects in emerging markets, and recently advised lenders on one of the world's largest solar energy projects in Egypt.
Before she started at the firm, Mottershead studied philosophy and history at the University of Leeds. Upon finishing her degree, law seemed like the obvious career choice for Mottershead, who was looking to further the skills she had gained during her undergraduate degree.
Shortly after embarking on the Graduate Diploma in Law (GDL) at City, University of London, she secured a training contract with Norton Rose Fulbright. She completed six seats (as was the case in 2003 when she started her training) in acquisition finance, project finance, litigation, shipping finance on secondment to the global firm's Paris office, corporate M&A and a final seat which saw her return to the firm's project finance team. "It was a busy period and I was given a lot of responsibility," she says on her second spell there.
It will probably come as no surprise then that Mottershead chose to qualify into the firm's projects department. Initially working on oil and gas projects, including the development of a major power station in the Middle East, Mottershead built up her practice to focus almost entirely on projects in emerging markets, mostly in Africa. Her book of business is threefold: advising lenders, sponsors and governments on the development and financing of wind, solar, hydro and biomass/biofuels projects.
Mottershead spent time on secondment to a development bank — an experience she found "invaluable". She explains: "I was working with the wider team at the client, including parties you wouldn't normally engage with as external counsel. I got to really understand the client's appetite for risk, and how this fits into the company's wider business objective."
The work of a projects lawyer largely depends on trends in the wider economy and government policy, as both are key forces for investment change. There are a number of issues that will shape the energy market in the months ahead. One of which is, of course, Brexit. There has been talk about the impact of Brexit on financial services, and Mottershead predicts a slump in investment (as you'd expect amid political uncertainty) but services such as energy, she notes, will still need to be delivered irrespective of the political climate in the UK, and internationally.
Under the Paris Agreement, the UK has recently adopted a target for net zero carbon emissions by 2050 in a bid to tackle climate change and reduce reliance on fossil fuels — a central theme that will be discussed at Thursday's Building a sustainable energy future event held at Norton Rose Fulbright's London office. "The UK is heavily reliant on gas and petrol-fuelled transportation, which means there's a lot of work to be done to meet the new model in the years ahead," she says.
The transition to a low-carbon economy has, in turn, fuelled investment in green energy projects. The government published its Green Finance Strategy earlier this summer which recognised the pivotal role the financial sector plays in delivering sustainable finance. It sets out its expectation for all listed companies and large asset owners to disclose their exposure to climate-related risk by 2022.
The green finance market is only going to grow — it's estimated to reach £280 billion per year in 2030 and £460 billion in 2050 — which is great news for lawyers working in this field. "The push towards sustainability presents a really good opportunity for lawyers," says Mottershead. "It's an interesting time to be involved in cutting-edge deals involving both science and politics, with the opportunity to develop and expand products such as green bonds and green loans."
For students hoping to enter this exciting branch of the legal profession, Mottershead has this to say: "It's important to have an international mindset: be switched on and show an interest in the goings-on around you. Norton Rose Fulbright is an international law firm, the work we do is inherently global in nature, and junior lawyers can be called upon to work on a deal in any of our offices across the world (Norton Rose Fulbright has over 50 offices across five continents) — it's exciting but you have to be prepared."
Arguably, the most important quality energy enthusiasts need, to navigate this environment, is adaptability. "The industry is constantly evolving; it covers a broad spectrum in which there's a lot of crossover," explains Mottershead, who often finds herself switching between different types of projects. And whether it's necessary to understand the science and technology behind the types of projects she takes on, Mottershead, who rows, gardens and performs in a six piece band in her spare time, says: "You don't have to be a super science whizz to work in this practice area but it helps to have an understanding of the business world in which your client operates."
Rosa Mottershead will be speaking alongside other Norton Rose Fulbright lawyers at Thursday's 'Building a sustainable energy future' event. The event is fully booked.
About Legal Cheek Careers posts.