A panel of solicitors and legal education experts come together to explore the opportunities for aspiring lawyers in the legal hub of the North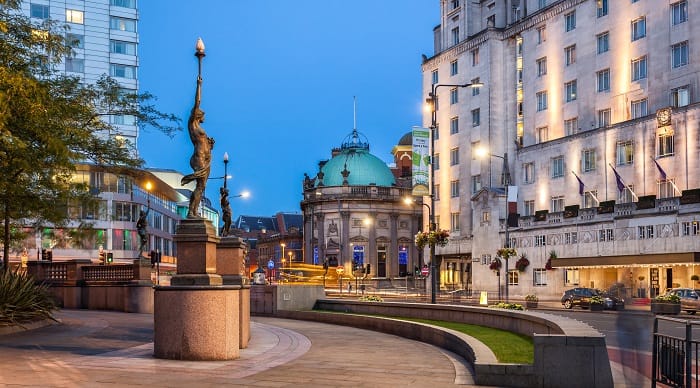 In the latest edition of Legal Cheek's in-person 'Secrets to Success' event series, run in partnership with The University of Law (ULaw), we welcomed a panel of Leeds-based lawyers from leading firms and a legal education expert from ULaw to discuss the city's vibrant legal scene, and share their top tips for students seeking to follow in their footsteps.
On the panel were: Matthew Clayton-Stead, partner in the banking and finance team at Pinsent Masons, Samantha Paulin, associate in the employment team at Walker Morris, Vicky McCombe, partner in the construction team at Womble Bond Dickinson, and Angelika Ketzer, tutor at ULaw's Leeds campus and former solicitor.
Quality of work
Kicking off proceedings, the panel agreed that Leeds stands out as one of the biggest legal hubs outside London, and cited the increasing number of firms opening up bases in the city. Vicky McCombe, partner in the construction team at Womble Bond Dickinson, emphasised the size of many of these new firms, which often have large national and London offices, meaning the quality of the work you are exposed to in Leeds is as good as anywhere in the country.
"Alongside its very strong legal sector, Leeds also has a very strong financial sector," says Matthew Clayton-Stead, partner in the banking and finance team at Pinsent Masons. With many building societies and insurers being based in Yorkshire themselves, the quality of work in Clayton-Stead's practice area in particular stands out as top drawer.
Each of our speakers were also keen to emphasise that Leeds combines this high quality of work, and the opportunity to work on a wide variety of exciting matters on a regular basis, with a higher quality of life than one might find in London. Taking care of yourself and finding an appropriate balance is becoming increasingly important to students and prospective employers alike, and Leeds can provide this balance.
Collaborative working and the importance of character
Focusing further on the key differences between Leeds and London, Clayton-Stead outlined the "collegiate approach" that all the people he works with embrace, whether this be colleagues from his own firm, or counterparts working on the other side of a matter. "In London you'll find a much bigger field and so there is less of a buy-in", he explained. This is in direct contrast to Leeds, where you don't want to alienate anyone from an early stage who you'll continue to build a working relationship with going forward.
Due to this collaborative way of working, Samantha Paulin, associate in the employment team at Walker Morris, emphasised the importance of utilising all of your personality at work on a daily basis, and perfecting your people skills. Building relationships with colleagues and clients, and being personable are core, often-overlooked skills that are required to succeed in the legal profession. For Paulin, legal skills can be taught and are now taken as a given, but it is these 'soft' skills that will make a candidate stand out in applications and interviews.
Gaining valuable experience
So what attributes are Leeds law firms looking for in their prospective trainees? The advice on offer: the skillset desired by law firms will be broadly the same as anywhere else in the country. Integrity, resilience, teamwork and having an enthusiastic, positive approach were just a few of the attributes cited as being key to landing a training contract offer.
What is more, these skills are ones that can be developed outside of the legal setting. Three out of our four panellists themselves did not study law at undergraduate level. Angelika Ketzer, ULaw tutor and former solicitor, emphasised that what you can bring from a non-law background shouldn't be considered a hindrance to your legal prospects. "You can bring skills that others don't, so use this to your advantage to make sure that you stand out," she said.
Ketzer went on to outline pro bono work as a key way to gain valuable real-life legal experience and develop these valuable skills. And she said there is nowhere better than ULaw to gain such experience, as they offer plenty of opportunities in this area, such as aiding on legal, business and employment helplines.
SQE
Perhaps unsurprisingly, the recent transition to the new Solicitors Qualifying Exam (SQE) regime was another key area of interest to those aspiring lawyers in attendance. On this topic, Ketzer considered the challenges for students that the SQE poses: "In many ways it is still very new," she said. "But we do know it is intense, with 1.7 minutes per multiple choice questions, within ten hours of exams spread over two days."
Offering reassurance, Ketzer was quick to add that the Legal Practice Course (LPC), the SQE's predecessor, was itself extremely rigorous and both courses certainly pose their own challenges. She added: "What is clear is that ULaw have done a huge amount of investment and work over the last few years in preparation for the transition, and are delivering a great set of courses that students enjoy."
About Legal Cheek Careers posts.