Four experts explore the rise of NewLaw and consider the training options on the horizon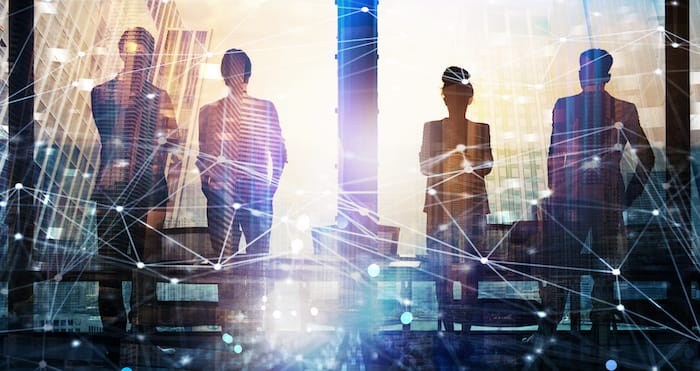 On Thursday 4 June Legal Cheek partnered with BARBRI to deliver 'Commercial Awareness Question Time'.
The event, which focused on NewLaw and the changing legal market, offered students the chance to gain insights into the impact the emerging NewLaw sector is having on the legal industry, as well as how the coronavirus outbreak is impacting the delivery of legal service and the possible training options available to future lawyers.
Expertise was provided by Mary Bonsor, CEO and co-founder of F-LEX; John Croft, president and co-founder of Elevate; Natalie Salunke, general counsel at Havn and The O-Shaped Lawyer project member; and Tracy Savage, academic head UK programmes at BARBRI.
The resounding message from the panel is that diversification and flexibility is the aim of the game as we adapt to legal life post COVID-19. This approach has been adopted by the NewLaw sector.
But what is NewLaw?
NewLaw can be described as a global trend seen in law firms, legal consultancies and alternate legal service providers that, through innovation and the adoption of 'disruptive' technologies, are changing the way in which legal services are delivered. It's often viewed as a flexible alternative to 'Big Law'.

First, John Croft considered whether the domination of large traditional law firms is about to give way to NewLaw. The panellists then provided their insights with four key takeaways.
1. Is the domination of large traditional law firms about to give way to NewLaw?
"That is unlikely… For highly bespoke work, you would still go to a magic circle firm," Croft said, before adding: "In the last ten to fifteen years, that core traditional method of delivering services has been chipped away. New organisations have entered the space. Now there are legal process outsourcing companies offering lower value, higher volume work, using technology — dramatic changes are afoot for the sector."
Set-up for today's #VirtualLegalCheek student event with @barbri on 'NewLaw and the changing legal market' ? Almost 400 students have tuned in to hear speakers from @FlexOnDemand, Elevate and The O-Shaped Lawyer, discuss the emerging sector and training options on the horizon ? pic.twitter.com/j0wodhChD5

— Legal Cheek (@legalcheek) June 4, 2020
2. Lawtech is redesigning the way that lawyers work
Dramatic changes are afoot; but what do they entail? The message from the panel is clear: legal technology can be a great thing for future lawyers. Croft explained:
"Digitisation has changed our lives. The volume of data in any legal process is exponentially vaster than before and, at some point, there aren't enough lawyers to do the work. This is when it is necessary for technology to step in." This is a reassuring message for prospective lawyers fearing the potential decrease in jobs that a technology revolution could bring.
Meanwhile, Natalie Salunke suggested that technology will take away those "boring tasks", such as typing, writing and drafting letters that lawyers were often lumbered with "back in the day".
3. The impact of COVID-19 on the working environment
The panel took the opportunity to elaborate on changes to their working environments in response to the coronavirus pandemic. How has COVID-19 changed the way lawyers work, and are these changes here to stay? they were asked.
Tracy Savage alluded to changing perceptions among law firms and their staff. The old view was that "anyone working from home is shirking", she said. "Now they see that people can work effectively from home." This view was echoed by Mary Bonsor, who told the audience of over 400 students that "COVID-19 has proved it is possible to work from home".
Will these changing attitudes have any bearing on the post-COVID working environment?
The panellists emphasised the necessity of 'face-to-face' interactions in conducting business. Despite this, it was acknowledged that increased flexibility and choice may become available to lawyers. And training contracts will likely follow suit, according to Bonsor, who predicts a mix of home and in-office training.
4. Career journeys: More opportunities in the legal sector?
The old culture of trainees spending their time on menial tasks for a number of years, in order to prove themselves, is changing. Junior lawyers will be presented with legal work from the outset, with a focus on spending as much time 'lawyering' as possible.
Encouragingly, Bonsor told the audience that COVID-19 will create more work in, for example, employment law and arbitration, which will perhaps suit those whose strengths lie in transactional, detail-heavy work, as well as those who enjoy being able to juggle matters.
Commitment and determination were also drawn upon as necessary prerequisites to success by Salunke, who referred to her own time as a trainee at Taylor Wessing during the financial crash. Making it at a time of economic crisis is all about "being tenacious and getting yourself out there," she advised. Savage also advocated these strengths, adding: "Be flexible. You cannot think, 'I'm going to do this at this firm, and that's my route in'. Look for other routes in."
What does a challenging market mean for training contract seekers?

Aspiring lawyers need to explore alternative routes to practice during these challenging times, says Tracy Savage, Barbri International's academic head of UK programmes. "It's being flexible and taking any opportunities you can get, rather than turning things down because they're not the route you expected to be using." #LCCareers

Posted by Legal Cheek on Tuesday, 30 June 2020
Croft spoke of his optimism about the future of the legal sector. He voiced his positivity regarding the job market — "there should be more places for more kinds of people doing more things" — and summarised the themes of the discussion. He stated that new entrants to the market, having imbibed a sense of flexibility due to current circumstances and an increased access to technology, will be a step-up from the "one-dimensional" person typically, in his opinion, found within certain areas of corporate law. Salunke added that NewLaw has allowed for diversity of thought towards, for example, the technologically minded among lawyer aspirants.
Shortly after the panel discussion, the speakers joined the students for virtual networking and a law fair across interactive Expo sessions covering topics including the Solicitors Qualifying Exam and qualifying as a US attorney.
About Legal Cheek Careers posts.