She hopes to raise £10,000 after spending childhood in care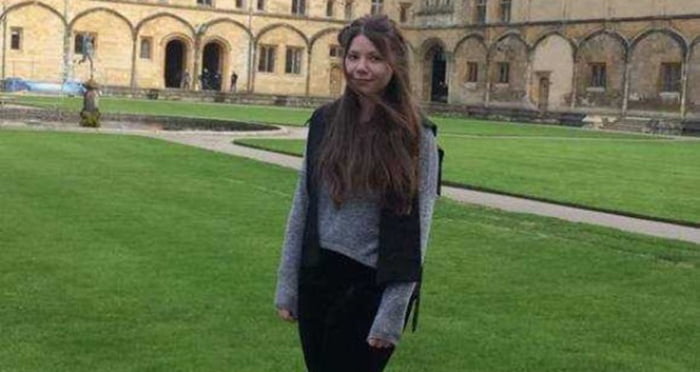 An Oxford law graduate who overcame eight years of suffering with anorexia and bulimia is now hoping the generosity of others will help her fund her masters degree.
Lucy Pearce tells Legal Cheek she has received an offer to study a masters degree in Cambridge's criminology department, which she hopes will be a stepping stone to a PhD researching the impact of crime on the family. Despite taking a year out to work as a tutor, Pearce is short of funds and hopes a new crowdfunding page will help her raise some much-needed cash for her postgrad degree.
Though Pearce benefitted financially from a scholarship while she studied at Oxford, she has missed out on one from Cambridge. "I don't think I was rejected on means," she says, "but because there's only a few scholarships a year offered to Cambridge criminology students."
Pearce doesn't have the benefit of a rich family: she has little contact with her parents, who are divorced. She spent time caring for her grandfather following his wife's death, but "he doesn't have much money either". Pearce continues:
"Although I looked in to loans, I couldn't find any that seemed to cover me, and apart from taking out a huge loan against my grandad's house and mortgage (which is probably the back up plan) I couldn't really think of anything."
Pearce was for a time homeless when she was studying at college, and is now looking to crowdfund because "I just thought it was worth a go". Though she's still thousands from her target, Pearce is "really, really happy" with how it's going and says "it's really lovely that people have helped me out".
A quick scan of Pearce's LinkedIn profile shows she has plenty of barrister-focused experience, such as marshalling in the administrative courts. She's also completed two mini pupillages, one at XXIV Old Buildings and one at 7 Bedford Row — and was master of moots at her university. Why not study the Bar Professional Training Course (BPTC) and become a barrister? She explains:
"I had always wanted to be a criminal barrister. People said I was good at arguing! I did really enjoy criminal law at university but I did find it very depressing. I've lived through quite a lot of the things that we were discussing in tutorials, like domestic violence, and I decided criminal law practice was a bit too close to home for me."
Indeed, Pearce reveals in a blog post for eating disorders charity Beat that she developed an unhealthy relationship with food aged 11 as a result of abusive behaviour in the family.
Though Pearce, who spent time in care from the ages of 11 to 16, has now recovered from anorexia and bulimia, in her post she says she "experienced a huge reduction in [her] ability to remember, focus, and to be able to think about anything". This "massively affected" her exam performance.
Despite this, Pearce applied for extenuating circumstances and went on to study law at Oxford. As for her childhood dream of becoming a barrister, she says she has long-term plans to become an advocate, perhaps in an area of law like insolvency or housing. "I hope to do a masters and PhD that brings about social changes and can help a wide group of people," former Jones Day intern Pearce says.
Pearce is not the first aspiring Oxbridge postgrad to turn to crowdfunding.
Last year, we brought you the story of Katy Sheridan, a then 22-year-old Simpson Millar paralegal. She'd secured a place on the Bachelor in Civil Law (BCL) course at Oxford but was in need of a financial boost before she could take up the offer. Sheridan, who has endometriosis, anxiety and depression, reached her £4,350 target in just four days. She's now started the BCL and will graduate this year.
Comments on this article are now closed.