The new Legal Cheek Junior Barrister Survey results — analysed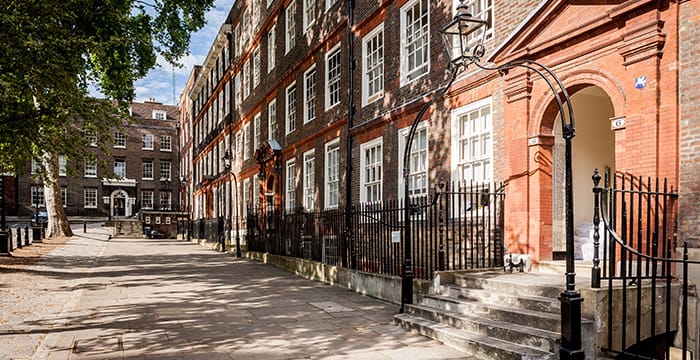 When it comes to fancy legal workplaces, it's hard to compete with the world famous skyscrapers that London's top law firms call home.
But increasingly barristers' chambers are giving it a go, as the leading sets plough a portion of their hefty resources into pimping up their gaffs.
Add high-end interior décor and slick technology into buildings located in the charming alleyways and passages of legal London, and you get quite an effect.
Ten chambers out of 50 scored an A* for facilities in the Legal Cheek Junior Barrister Survey of over 600 bar rookies.
Among them were two magic circle sets, where barrister earnings dwarf even the megabucks of City law firm profit per equity figures. So little wonder that Blackstone Chambers — home of household name QCs such as Dinah Rose and David Pannick — has the exclusive vibe of Davos private jet frequent flyers' lounge.
Nor perhaps should we be surprised that Fountain Court rookies rate their surroundings as considerably closer to The Ritz than The Blitz on the sliding scale we used to assess this category of our survey. With admirable understatement one insider told us: "Obviously not like a law firm or a bank, but we have everything we need, and everything works well."
Some chambers are actually like a law firm or bank. Take 39 Essex Chambers and Hardwicke, which are located in two of the handful of modern buildings around Chancery Lane. A barrister at the former tells us: "Some might prefer the older buildings typical of the bar but it's always a comfort to have new facilities, an IT team and lots of people working in chambers to assist in its daily running." A colleague adds: "Very comfortable and lots of staff support."
A rookie round the corner at Hardwicke reports: "We are fortunate to be the modern building in Lincoln's Inn which means we do not have any of the drawbacks of being in one of the ancient buildings. We have generous offices with shower facilities on each floor. On the 'client' floor we have a large seminar room for events and ping pong as well as six large conference rooms for members use."
For other sets, the natural beauty of their surroundings is enough. "I have a room overlooking Inner Temple Gardens at the Thames — it is pretty good!" says a 2 Temple Gardens barrister. Another argues that "we've got the best views in Temple" while noting the "lovely Dickensian chic atmosphere" of the Middle Temple gateway location that featured in, among other films, Mission Impossible.
Up the road at Gray's Inn, the vistas are similarly delightful. "We all have our own rooms and they are all good-sized to very large. Most have views over Gray's Inn gardens. We have excellent facilities for meetings etc and great support staff for IT, billing and facilities management," a 3 Verulam Buildings junior muses.
Nearby Cornerstone Barristers is one of London's most recently refurbished. "Lovely", "very fancy", "excellent" and "super smart and super well appointed" are just some of the gushing words used to describe the results by the set's impressed members. A further survey respondent gives an insight into the progressive atmosphere: "Most members share rooms with colleagues but usually in small numbers. Hot-desking facilities are available for the express purposes of reducing costs for (and thus retaining) members who may need to work part-time or who live at a distance from London."
Continuing our tour, we arrive at Lincoln's Inn. With three separate sites in close proximity, barristers from Radcliffe Chambers are a common sight. The fast-growing, and fast–modernising, set offers its members some of the best support around — and judging by their survey results they seem to quite enjoy their mini-commutes across New Square Gardens.
Meanwhile, Fellow Lincolns Inn-er, 4 New Square, may be just another Georgian townhouse from the outside, but get inside and it's 5* boutique hotel meets avant-garde yoga retreat — with functioning IT to match!
Not that all the chambers with the best facilities are in the Big Smoke. Exchange Chambers — with offices in Liverpool, Manchester and Leeds — lives up to its Northern Powerhouse grandee status with "mood lighting, plush carpets and vast space".
The sets that scored an A* for facilities in the Legal Cheek Junior Barrister Survey
Chambers listed in alphabetical order; winner to be announced at the Legal Cheek Awards on 21 March 2019
2 Temple Gardens
3 Verulam Buildings
39 Essex Chambers
4 New Square
Blackstone Chambers
Cornerstone Barristers
Exchange Chambers
Fountain Court Chambers
Hardwicke
Radcliffe Chambers
Peruse all of the chambers' new 2018-19 survey scorecards — including training, quality of work, colleagues, facilities and social life — via the Legal Cheek Chambers Most List 2019.
Previously: The best chambers for training; The best chambers for quality of work for juniors; The chambers with the most supportive barristers.