Comedian Benito Skinner plays out infamous Legally Blonde video application scene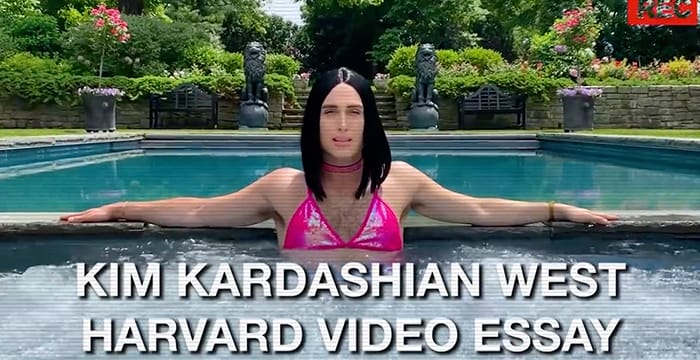 It was only a matter of time before the comparisons were drawn between social media star and first-year law student, Kim Kardashian West, and Legally Blonde's Elle Woods.
Enter YouTuber Benito Skinner. The 25-year-old vlogger has released a video in which he parodies the 38-year-old socialite, depicting her as the whimsical Elle Woods from the 2001 hit chick flick applying to study at Harvard Law School.
The two-minute clip, 'Kim Kardashian West Harvard Video Essay' (embedded below), opens with Skinner wearing a wig resembling Kardashian's short black bob and dressed in a pink sequin bikini reclining in a hot tub. "Oh, hey you guys. My name is Kim Kardashian West and I'm going to tell you all at Harvard why I'm going to make an amazing lawyer," he says.
Skinner is then shown in an array of scantily clad, signature Kardashian looks as he continues to demonstrate Kim K's legal prowess. "I'm able to remember hundreds of important details at the drop of a Yeezy," is one example he shares in the video which has garnered 130,000 views and over 11,000 likes. "I'm not afraid to use legal jargon in everyday life," is another, to which an onlooker responds: "You got a fat ass," and Skinner replies: "Guilty!"
The clip, which caught the attention of younger sister and fellow reality TV star Khloe Kardashian, who shared it with her Instagram followers on Saturday, also features a mock cameo appearance from 'Momager' Kris Jenner who explains why the dean of admissions should admit her daughter.
Mother-of-four Kardashian, who is currently holidaying in Costa Rica, revealed she is studying to become a lawyer in May's issue of fashion bible Vogue. She confirmed she had begun a four-year legal apprenticeship with an unnamed law firm in San Francisco last summer, with a view to sitting the California bar exam in 2022.
A cult classic among law students, Legally Blonde follows the exploits of Elle Woods, played by actress Reese Witherspoon, at Harvard Law School. A 2003 sequel sees Woods travel to Washington DC on a mission to ban animal testing. A third instalment is apparently in the works.