She's a real-life Elle Woods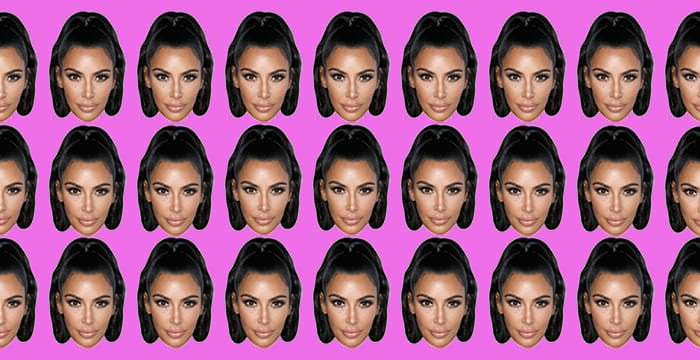 As with most things to do with the Kardashians, you've probably heard the news (whether you wanted to or not) that Kim Kardashian, the queen of reality TV, and arguably one of the biggest trendsetters of our time, is studying to become a lawyer.
I'm pretty sure I can imagine what's going through your head right now: She's a rich socialite from a privileged background who has somehow lucked out in the celebrity lifestyle and social media raffle, has millions of followers, a face full of makeup and now BRAINS?!
But rather than bash her for it, law students should be supporting the Armenian multimillionaire, because she can probably teach us a thing or two. Here are five reasons why law students should be obsessed with Kim K.
1. She's studying law
California is one of a number of US states that allow aspiring lawyers to sit their final bar exams without a law degree. However, bar exam pass rates are extremely low — a testament to how hard the exams are. In February the overall pass rate was just 31%.
Despite its reputation for being one of the trickiest subjects to scrape a pass, Kardashian has enrolled onto the four-year course, will sit the Cali 'Baby Bar' exam like anyone else, with an admirable determination to qualify in 2022. Her drive warrants some accolades.
2. She's a real-life Elle Woods
With an estimated net worth of $350 million (£277 million), Kimmie is hardly your average law student. She's practically a real-life Elle Woods.
When Woods, the titular character from 2001 chick flick Legally Blonde tells her parents she's got big, law school ambitions, her father responds: "Law school is for people who are boring and ugly and serious. And you, Button, are none of those things."
When Kardashian announced to the world in May's issue of fashion bible Vogue that she was pursuing law, the 38-year-old socialite of Keeping up with the Kardashians fame received a similar backlash. Taking to Instagram, where she boasts 142 million followers, Kardashian defended her new career move in a lengthy post. "I've seen some comments from people who are saying it's my privilege or my money that got me here, but that's not the case," she wrote. "One person actually said I should 'stay in my lane'". Woods graduated as valedictorian of her class — will Kardashian achieve the same?
3. She's a trooper
Learning the law isn't easy. First-year law student and mother-of-four Kardashian is currently ploughing through the complex principles of tort, contract and criminal law, dedicating a minimum of 18-hours a week to her studies. Welcome to the 'Klub', Kim.
Despite describing torts as "the most confusing" of the three, the KKW Beauty businesswoman "aced" her first tort exam achieving full marks, and managed to look stylish whilst doing it, toting a cream crocodile Hermès Birkin handbag in casual grey Yeezy sweats.
4. She's using her privilege for greater good
It's easy to say media mogul Kardashian is already rich and doesn't need an education to survive thanks to her meteoric rise to fame. Yet she wants to use her celeb status to help those less privileged.
Prior to her studies, Kardashian was instrumental in the release of 63-year-old Alice Marie Johnson from a life behind bars after she committed a first-time, non-violent drug offence. That led Kardashian to meet with President Trump at the White House to discuss prison reform. In April, one of Kardashian's attorney mentors, Jessica Jackson, who founded #Cut50, an organisation fighting to end mass incarceration, said: "Kim cares deeply about people who are negatively impacted by incarceration. She has spent time with us meeting with people living inside prisons, meeting with formerly incarcerated people, crafting policy, and working on individual cases, while also learning more about the law." Go Kim! It's great that she has now decided to take the plunge and obtain legal qualifications to support her experience.
5. She's one of us
All law students harness a deep hatred for our pile of big, fat and wordy textbooks. Kardashian has made it clear that she finds contract "the most boring" — she's clearly not a fan of Keeping up with the 'Kontracts'!
Like any other nonchalant (and naïve) first-year law student, Kardashian has boasted she can do criminal law "in [her] sleep", that she can grasp the concepts "in two seconds" and moaned about how "time-consuming" the reading is. She's practically one of us.
We've all been 'that kid' in class who cannot stop forcing a vague grasp of legal concepts into everyday conversation much to the frustration of others. It seems Kardashian is no different. According to her sister and fellow reality TV star, Kourtney Kardashian, Kim K has already begun laying down the laws on liability on her famous siblings.
Frankly, all the haters out there who mock Kardashian's legal dreams are missing the bigger picture. Say what you like, but there's no doubt she's actually very intelligent and has the potential to make it as a lawyer — just like her father, Robert Kardashian, who famously worked on OJ Simpson's murder trial, did. That's not bad for a girl who has been criticised for having "no talents".
Christianah is an aspiring barrister and legal journalist. She completed her law degree at City, University of London.
Comments on this article are now closed.