Lawyers share their hilarious #SupremeCourtFacts as prorogation of parliament case gets underway
'Any close decision is checked by Lord Sumption for VAR'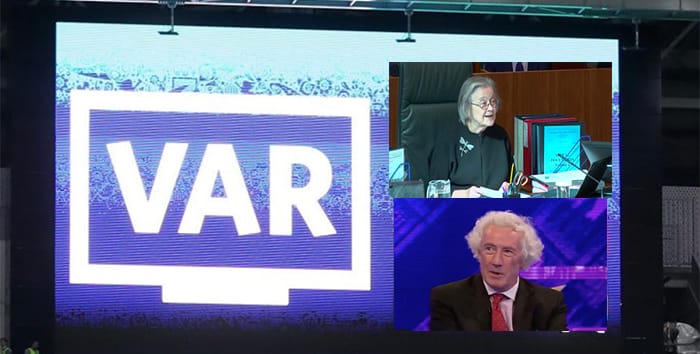 Lawyers have taken to Twitter to share their amusing but completely fake facts about the Supreme Court as it prepares to hear two appeals this morning over whether Boris Johnson acted lawfully in suspending parliament for five weeks in the run-up to Brexit.
"There's going to be a lot of misinformation over the next few days about the Supreme Court", anonymous legal blogger The Secret Barrister (SB) wrote on Twitter this morning. "[S]o as a public service, I'd invite lawyers to share some little-known legal facts."
Using the now-trending hashtag #SupremeCourtFacts, SB kicked things off by revealing "each Supreme Court judge enters court to their own Diana Ross song". Meanwhile, lawyer and legal commentator David Allen Green explained that the eleven sitting judges are considered the "first team" and that the twelfth "sits in dugout out of camera view fully kitted up and ready to deputise, and is formally known as Justice Supersub".
Alan Greene, a senior lecturer in public law and human rights at Birmingham Law School, confirmed that the justices have to take a drink of their beer every time a barrister says "my learned friend".
Every time a barrister says "my learned friend" the judges all have to say raise their glasses, say "my learned friend" and have to take a drink of their beer. The last judge to do this has to drink a shot as a forfeit. #supremecourtfacts

— Alan Greene (@DrAlanGreene) September 17, 2019
Sharing their own fun fact, and appearing to take a pop at the Daily Mail in the process, Twitter user Resjudicatamyfoot disclosed that "every judge is paid directly from EU funds and is an openly gay fencer".
Every judge is paid directly from EU funds and is an openly gay fencer. All judgments are approved by the President of the Commission. #supremecourtfacts

— Resjudicatamyfoot (@Resjudicatamyft) September 17, 2019
The fake facts kept on coming:
The gold lace trim on Supreme Court judges' robes means they sit as an admiralty court. The first counsel to get the lyrics of "Rule, Britannia" into his or her submissions unlocks this and the judges are contractually obliged to find in their favour. #supremecourtfacts

— Tim O'Connor (@timoconnorbl) September 17, 2019
The justices address each other as "Bro" (even if they are women), and the barristers/advocates must too.#SupremeCourtFacts

— Aileen McHarg (@AileenMcHarg) September 17, 2019
(1) The Justices' chairs all face away from Parliament to indicate the independence of the judiciary.

(2) If Counsel is asked a difficult question you can phone a friend or poll the public gallery.

(3) Any close decision is checked by Lord Sumption for VAR.#supremecourtfacts

— David Wolfson (@DXWQC) September 17, 2019
How the Supreme Court will line-up for today's hearing: Hale in her familiar holding role, flanked by Reed and Kerr, with Kitchin and Sales operating as attacking wingers #Supremecourtfacts pic.twitter.com/EK0VnoeZxt

— Legal Cheek (@legalcheek) September 17, 2019
Barristers can only drink water with their left hand. Right-handed drinking will result in a forfeit chosen by judges. #SupremeCourtFacts

— John Hyde (@JohnHyde1982) September 17, 2019
Social media silliness aside, eleven Supreme Court justices will hear two appeals from today that will determine whether PM Johnson's decision to suspend parliament, otherwise known as proroguing, was unlawful.
Earlier this month, Scotland's highest court, Edinburgh's Court of Session, ruled that Johnson's decision was unlawful, saying it was "an egregious case of a clear failure to comply with generally accepted standards of behaviour of public authorities". The government is appealing the ruling.
In separate proceedings brought by campaigner Gina Miller, the High Court ruled in favour of the PM, finding that the suspension was "purely political" and therefore not a matter for the courts. Miller is appealing, too.
The Supreme Court hearing got underway at 10:30am this morning and is scheduled to last until Thursday. You can watch the proceedings on the Supreme Court's live stream.