Thumbs up from first-year law student ??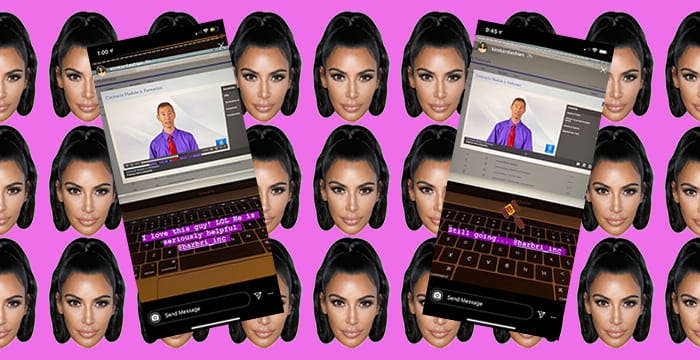 Social media star Kim Kardashian has given a BARBRI academic her seal of approval.
The first-year law student took to Instagram, where she has 148 million followers, to share a series of snaps of her studying contract law. Kardashian, who was in Washington D.C. over the weekend with rapper husband Kanye West, who performed a surprise concert at Howard University, revealed in her story she was about to embark on a "DC study session" — contract law casebook on hand.
She continued with 'Kontracts' on Monday, which is when she gave BARBRI and University of Washington's contract law Professor Steve Calandrillo an Insta shout-out. "I love this guy! LOL He is seriously helpful @barbri_inc," she wrote, alongside a screenshot of her watching a video of Calandrillo delivering a pre-recorded lecture online on the formation of contracts.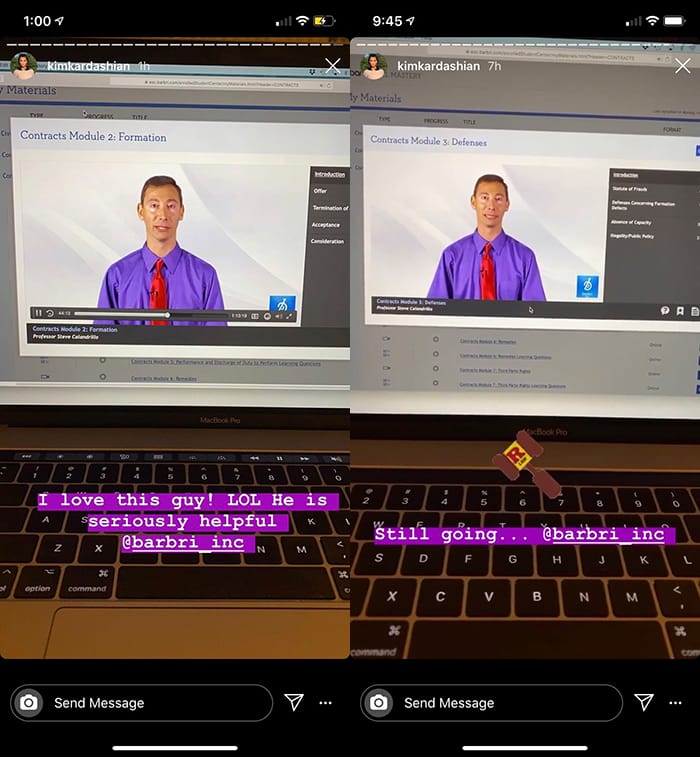 The mother-of-four kept going. "All 4 kids are asleep now can study Contract Law," she wrote, against the backdrop of her neat study notes. A while later she shared another story which showed she had moved on to the next module, on "defenses", and captioned the shot "Still going… @barbri_inc" alongside a gavel GIF.
Calandrillo, who holds a juris doctor from Harvard University, told American news website Above the Law:
"I think it's awesome she's enjoying the BARBRI videos and I wish her the best on her legal studies! (And probably half of everything I know about the law I learned at BARBRI too)."
Business mogul Kardashian, who manages multiple projects alongside her studies, including her KKW Beauty line, SKIMS shapewear and her very own gaming app, confirmed she had enrolled on a four-year legal apprenticeship with a San Fran law firm last summer, with a view to sit the Cali bar exam in 2022, in Vogue earlier this year.
Despite not holding a bachelor's degree, 38-year-old Kardashian's foray into law is possible because California is one of a number of US states that allow wannabe lawyers to sit their final bar exams without a law degree.
The reality tele star who shot to fame on Keeping up with the Kardashians regularly keeps fans abreast on her law school exploits. She has defended her lawyer dream, complained that law student life sucks and revealed ambitions to specialise in criminal law and set up her own law firm staffed with former prisoners.