Outspoken ex-Supreme Court judge made controversial comments in 2015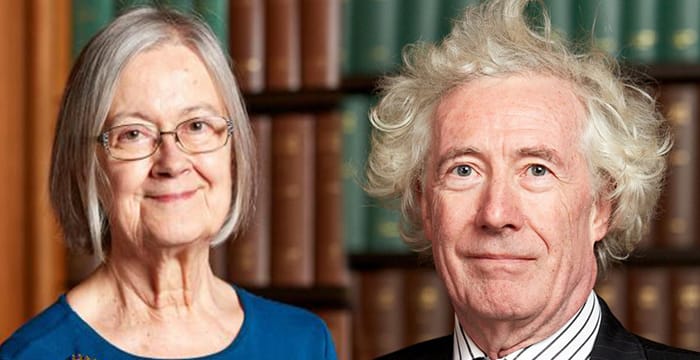 Lady Hale appears to have taken a subtle swipe at her former bench mate Lord Sumption for his suggestion that it could take 50 years to achieve gender equality in the judiciary.
In a recent Q&A with Legal Action Group, an independent charity promoting access to justice for all members of society, the brooch wearing Baroness was asked when she thought true diversity within the judiciary would be reached.
"There has been great progress over the last two decades, since the powers-that-be have begun to take it seriously," Hale said. "When I started judging, for example, the idea that a judge might be a wheelchair user was unthinkable. That has definitely changed. And the diversity statistics among the tribunals judiciary nearly mirror the diversity statistics among the working population of the same age, which is a huge achievement."
The Supreme Court president then appeared to take a gentle shot at Sumption, who in an interview with the Evening Standard in 2015 (and while still himself a Supreme Court justice) predicted that it would take 50 years for gender equality on the bench to be achieved.
Hale continued:
"But we still have quite a long way to go among the courts judiciary, especially in ethnic diversity, so I'm not going to make a prediction — except to say that at current rates of progress it should take less than the 50 years which have sometimes been predicted."
Elsewhere in the now infamous interview, ex-barrister Sumption argued that a rush to gender equality "could have appalling consequences for justice" and that it was "rubbish" to say that the law was run by an "old boys' network".
His comments attracted a wave of criticism on social media, with Blackstone Chambers barrister Dinah Rose QC tweeting at the time that Sumption "knows nothing about lives of women at the bar".
Elsewhere, Mukul Chawla QC wrote: "Here is an example of a judge with (apparently) brain power but absolutely no judgement or wisdom…", while barrister Adam Wagner quipped: "Lord Sumption also said he thought Charlotte Proudman looked 'stunning' in her LinkedIn pic #joke #justabout".
Statistics released earlier this year show that 32% of judges in the courts and 46% of tribunal judges were women — an uptick of six and three percentage points respectively over the past four years. Women also accounted for 23% of judges in the Court of Appeal and 27% in the High Court.