Plus Law Society President and top lawfluencers 🤩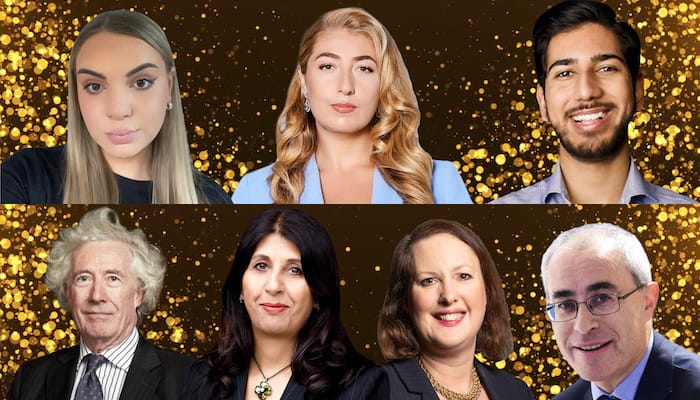 Seven legal industry hotshots have been announced as judges at next month's Legal Cheek Awards, the hottest event in the legal calendar. Get your ticket now.
Ex-Supreme Court justice Lord Sumption joins the Attorney General for England and Wales Victoria Prentis KC MP, Blackstone Chambers silk Lord Pannick KC and Law Society President Lubna Shuja as judges for this year's 'Best Legal Cheek Journal contribution'.

Meanwhile, our 'Best use of social media' award will be judged by The Apprentice star and court advocate Marnie Swindells, YouTube vlogger and lawfluencer Ibz Mo and last year's winner and founder of The Neurodiverse Lawyer Project Amelia Platton.

Sumption, who retired from the top court in 2018, and Swindells, who is currently competing in the 17th series of the business-styled reality show, have kindly taken the time out of their busy schedules to present the two awards on the night.
This year's Awards takes place on the evening of Tuesday 14 March at the Banking Hall in the City of London. It is jointly sponsored by BARBRI and BPP University Law School.
Below are the shortlists for each category:
Best Legal Cheek Journal contribution 2023
• 'Law firms as social enterprises – the future, or just a CSR pipedream?' by Bristol University law graduate and Addleshaw Goddard trainee solicitor Bethany Barrett
• 'The impact of AI on copyright law' by Leeds University law graduate and aspiring barrister Jonathan Binns
• 'X marks the spot: Treasure law reforms in England and Wales' by Sydney University, Australia graduate and future pupil barrister Hillary Curtis
• 'Criminal justice: A system on its knees' by Liverpool University law student Jakob Fletcher-Stega
• 'The business of sustainability' by Turkey qualified lawyer and Brunel University LLM student Ece Gorgun Balci
• 'London's Commercial Court: Under threat, or concern about nothing?' by Reading University law student Ben Holder
• 'The rights and wrongs of life in the metaverse' by Bristol University modern languages graduate and future Clifford Chance trainee solicitor William Holmes
• 'Will legal tech doom the billable hours model for law firms?' by Oxford University history student Lewis Ogg
• 'Secrets and lies: The UK's troubled regime of freedom of information' by LSE law student Nhan Pham-Thanh
• 'Seeking asylum: a one-way ticket to Rwanda' by ULaw law student Teshé Rolle
Best use of social media 2023
• ULaw third-year law student and future Clyde & Co trainee solicitor Farzana Abdullah for the Muslim Lawyers' Hub (Instagram)
• Sheffield University law graduate and CPS future pupil barrister Taz Aldeek (YouTube)
• ULaw third-year law student and future trainee solicitor Jordon Goodman aka 'The Legal Northerner' (TikTok)
• Paul Gascoyne, senior recruitment manager at Shearman & Sterling (LinkedIn)
• Anonymous Hong Kong-based junior lawyer meme account (Instagram)
• Bristol University law graduate and Womble Bond Dickinson trainee solicitor Simranjeet Kaur Mann (YouTube)
• Best friends, Cambridge University law graduates and Akin Gump trainee solicitors Rebecca McNeil and Simrhan Khetani aka 'Becs and the City' (TikTok)
• LSE political science graduate and future White & Case trainee solicitor Ali Obeid (TikTok)
• Lancaster University law graduate and in-house trainee solicitor Maab Saifeldin aka 'Life with Maab' (Instagram)
• Durham University third-year law student and future Clifford Chance trainee solicitor Lucy Sallows aka 'Legally Lucy' (TikTok)
These are just two of 25 awards due to be announced at next month's ultra glam ceremony. Several law firms and chambers have been shortlisted in categories including training, quality of work, work/life balance, perks and more. The winning firms and chambers are based on the results of our annual Trainee and Junior Lawyer Survey. Check out the shortlisted firms and chambers.
Politicians past and present have featured on our judging panels in previous years, including Suella Braverman KC MP, David Lammy MP and David Gauke. Love Island stars Tyler Cruickshank (who'll be in attendance again this year!) and Rosie Williams have also made appearances to judge and present gongs as well as television personality Rob Rinder and bar blogger the Secret Barrister.