Practitioners from no less than 13 leading London sets share their insights as the Pupillage Gateway re-opens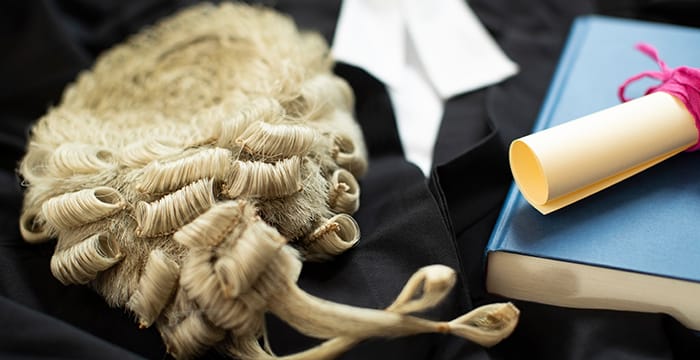 Students took the opportunity to cross-examine a variety of experienced practitioners at Legal Cheek's 'How to make it as a barrister' Secrets to Success event in partnership with The University of Law (ULaw), uncovering a range of valuable tips for success along the way.
The event, held at ULaw's Bloomsbury campus in December, featured three panels: pupils and juniors — under seven years call; seniors — over seven years call; and practice managers. A total of 13 chambers were represented. Here are some of the highlights.
---
The speakers
Panel 1: Pupils and juniors — under seven years call
Grahame Anderson, Littleton Chambers
Harrison Denner, Henderson Chambers
Clare Elliott, Hailsham Chambers
Mark Jones, ULaw and No5 Chambers
William Richardson, LPC Law
Alex Shattock, Landmark Chambers
Panel 2: Seniors — over seven years call
Tina Kyriakides, Radcliffe Chambers
Tom Cosgrove QC, Cornerstone Barristers
Morayo Fagborun Bennett, Hardwicke
Jonathan Seitler QC, Wilberforce Chambers
Gareth Tilley, Serle Court
Claire Watson, Serjeants' Inn Chambers
Panel 3: Practice managers
Catherine Calder, Serjeants' Inn Chambers
Oliver Miney, 4 Pump Court
Paul Read, 5 Essex Court
---
The junior panel agreed that applicants can, to a large extent, mitigate for weak A-Levels or not attending a Russell Group university. Harrison Denner, of Henderson Chambers, said his chambers did not distinguish between different universities and degree classification was more important as its only criteria was that candidates demonstrate academic excellence. Clare Elliott of Hailsham Chambers suggested giving a reason on the application form for poor A-Level results, if appropriate, for example, an ill relative or parent. Mark Jones, ULaw future pupil programme coordinator and future pupil at Birmingham's No5 Chambers, said 90% of what he spoke about in interviews concerned mooting, pro bono work or other extra-curricular, non-academic subjects. However, some chambers tend to recruit only from Oxbridge, which applicants can ascertain by checking tenants' profiles.
Work experience can prove extremely useful. Denner's year as a paralegal at a US law firm helped him to "demonstrate a commitment to law generally" and to show he was able to cope with deadlines and a pressured environment. William Richardson, a future pupil, spoke about his work as a county court advocate at LPC Law, which he described as "barrister-lite" since he goes to court, delivers arguments, examines witnesses and drafts notes but can't advise a client. This is "directly applicable experience" that he was able to draw on in his applications.
On tailoring answers to chambers in application forms and explaining why you want to be a barrister, Elliott advised that applicants should express an interest in the areas that chambers covers (and should not rely on the chambers website but check sources such as Legal Cheek or Legal 500 rankings to find out where the set's strengths lie). "If you are applying to a commercial/chancery set where you're unlikely to be in court often and you say you love advocacy and being on your feet then you have misplaced what life at that chambers is going to be like," said Elliott. "Applicants should also say, 'I want to do this because…' and link back to examples of things they have previously done or achieved, rather than make bare assertions," she added.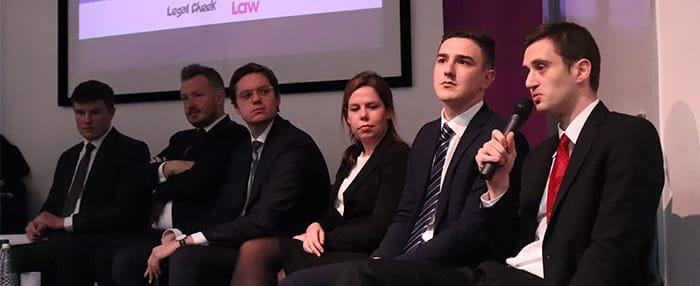 The final question to the panel was why they chose to be a barrister not a solicitor. Their answers ranged from "because I like the sound of my own voice" through to "the independence I have as captain of my own ship", "my work experience and mini-pupillages made my mind up for me" and "in litigation all the most interesting parts go to the barrister at the end".
Among the senior barristers, Jonathan Seitler QC, of Wilberforce Chambers, warned it "can be brilliant but not always easy and can take time" to switch practice areas — he swapped from criminal to property law.
In the past ten years, several aspects of life as a barrister have changed, for example, there are now hearings about costs budgeting and disclosure of documents, and evidence now tends to involve screeds of emails, texts and messages.
Tom Cosgrove QC, of Cornerstone Barristers, said barristers now have to be available 24 hours and work is much more competitive, with chambers having to think more about marketing and brand awareness. Tina Kyriakides, of Radcliffe Chambers, agreed: "When I started, you weren't allowed to advertise at all, you couldn't even walk across the Strand carrying your wig and gown. Now you have to build a brand name." Clare Watson, of Serjeants' Inn Chambers, said a lot of her work is now done remotely, but stressed the importance of interpersonal skills.
Morayo Fagborun Bennett, Hardwicke, said the biggest change she'd seen was the reduction in legal aid provision and increase in number of litigants representing themselves, which meant worthwhile cases often couldn't be brought. She gave the example of a "housing disrepair case with a tenant last Christmas where I was desperately trying to find a solicitor or someone from a law centre to take the case on, I offered to help with pleadings but didn't find anyone. In the end I took the case and managed to get her £15,000, which is quite a lot for a disrepair case, but she wouldn't have been able to get that otherwise because of her vulnerability".
Watson said students should remember to include life experiences outside of mooting and voluntary work when applying to the bar. For example, she used to work as a receptionist at a GP's surgery on Saturdays and that taught her resilience — a valuable quality for a barrister.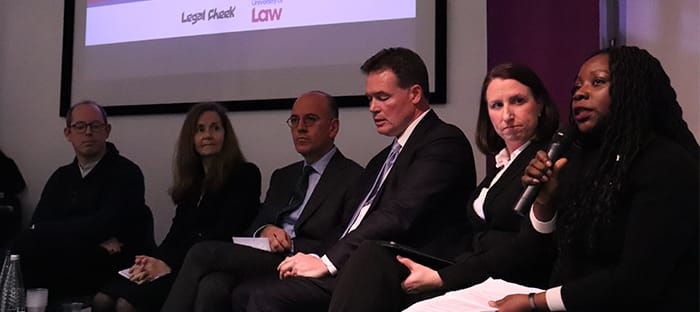 Bennett reminded pupils and junior barristers to look after their wellbeing, whether that be through swimming, yoga or some other activity, because being a barrister is a tough job, and also to talk to each other. For example, if a judge is foul to you then you may think it's your fault but if you share that experience then you might find out they're always like that, she said. "So, take care of yourself and talk to each other."
LPC Law's William Richardson reveals how his role as a county court advocate helped him secure pupillage #LCCareers

Posted by Legal Cheek on Wednesday, 4 March 2020
The third panel gave the perspective of practice managers. Catherine Calder, joint chief executive, Serjeant's Inn, said she found being part of a team making a difference to people in crisis the most fulfilling part of her job. The biggest challenge was "how to modernise while retaining the special cachet and character of the bar. Of course clients expect us to be cutting-edge in terms of service delivery and we have to advance to meet the demands of a changing profession — but we don't want to change into just another anonymous corporate machine".
On which key skills they looked for in barristers, Paul Read, team leader, 5 Essex Court, said the best attribute a barrister can have is the ability to establish trust, and they do that by doing what they say they'll do and fulfilling their obligations over time. Oliver Miney, deputy senior clerk, 4 Pump Court, highlighted the need for common sense as well as interpersonal skills. When marketing, he suggested barristers "play to their strengths" whether that be through seminars or taking clients for drinks. All three emphasised the importance of marketing and commercial nous. Miney added: "Gone are the days of the ivory tower when barristers could hide in their lovely rooms overlooking Temple. They need to be out there, being approachable."