US Supreme Court legend Ruth Bader Ginsburg now has her own Lady Hale spider pin
'Notorious RBG' thanks lawyers at 2 Bedford Row for arachnid fashion item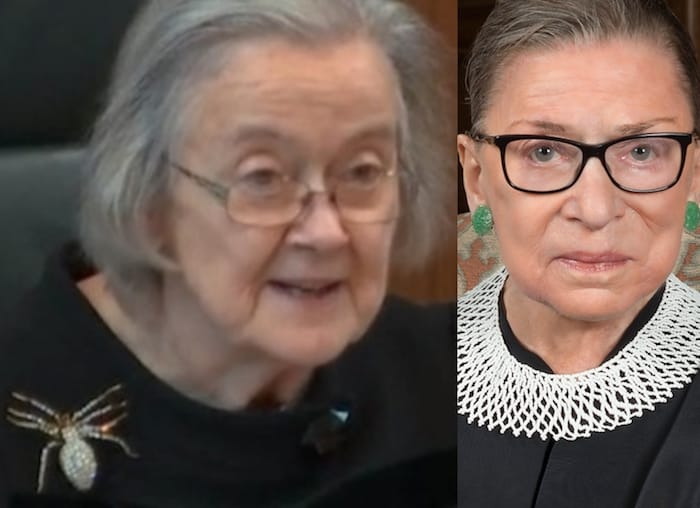 Barristers at a London chambers are celebrating after their gift of a Lady Hale-style spider pin found favour with US legal icon Ruth Bader Ginsburg.
The US Supreme Court Justice has written to fans at 2 Bedford Row to thank them for the present, which was inspired by the spider brooch that Hale famously sports in court.
In the letter, published by the set's Shauna Ritchie, Ginsburg said:
"I will wear the spider pin with pride and appreciation for Brenda Hale, the great Lady who sparked its creation".
It was addressed to "The Women of 2 Bedford Row", who arranged for the pin to be presented to Ginsburg by outgoing head of chambers William Clegg QC at a recent meeting.
It's fair to say the women of @2BedfordRow are rather excited to have received a message from Notorious RBG herself after sending her a Lady Hale inspired spider pin!? @CAgnewQC @QCLouSweet @nataliebird01 @Jessica21818528 @jaccarey57 pic.twitter.com/RH6gwScSmp

— Shauna Ritchie (@wordbiscuit) November 14, 2019
Lady Hale's penchant for pins was first spotted by Legal Cheek, but the spidery version she selected when delivering judgment in the Boris Johnson prorogation case went mega-viral.
Lawyers and politics geeks rushed to copy the eight-legged accessory, with former cabinet minister Amber Rudd spotted wearing a tribute in Parliament last month.
When you have the brilliant idea to wear your Lady Hale t-shirt to Parliament and your mum decides to copy you ? ? pic.twitter.com/vG4SuEFKOD

— Flora E Gill (@FloraEGill) October 31, 2019
Speaking to Legal Cheek this morning, Ritchie explained how the pin went global:
"Our Head of Chambers for over 25 years, Bill Clegg QC, recently stepped down from that role and new heads Brian Altman QC and Jim Sturman QC took over. At chambers drinks to celebrate that momentous occasion I asked Bill what he was going to do with all the extra free time and he explained that he was off to Washington DC that very week where he would be meeting Ruth Bader Ginsburg [as pictured below]".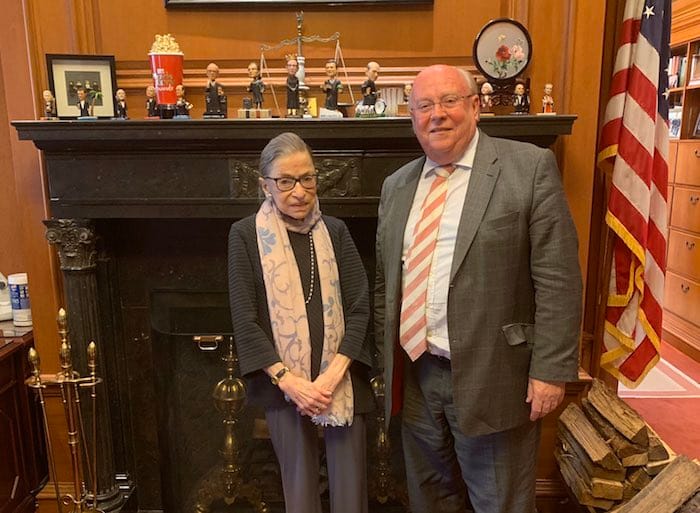 Ritchie, a criminal specialist at the London set, went on:
"After he politely declined the offer of a number of us to accompany him on the trip, we decided it would be a nice token of our esteem to send her a Lady Hale inspired spider pin. I, like many women at the bar, had purchased one after her momentous Brexit judgment and, together with a letter explaining that we were celebrating the first 100 years of women in law and wanted to celebrate our role models, off it went to Washington. Her kind letter in reply arrived yesterday."
Ginsburg, one of the US Supreme Court's last liberal justices and a proud feminist, has become something of a legal icon in recent years. A 2015 book, Notorious RBG, chronicles how the 86 year old has "won the internet", with fans lapping up social-media friendly quotes such as:
People ask me sometimes, when — when do you think it will it be enough? When will there be enough women on the court? And my answer is when there are nine.
Earlier this year, a mini-Ginsburg appeared in the new Lego movie, while a non-Lego documentary about her life and times picked up two Oscar nominations last year.
The American answer to Lady Hale even has a fashion statement of her own: a collection of collars, from a gold "majority collar" to a sparkly "dissent collar".