She was doing a puzzle on the Victoria Line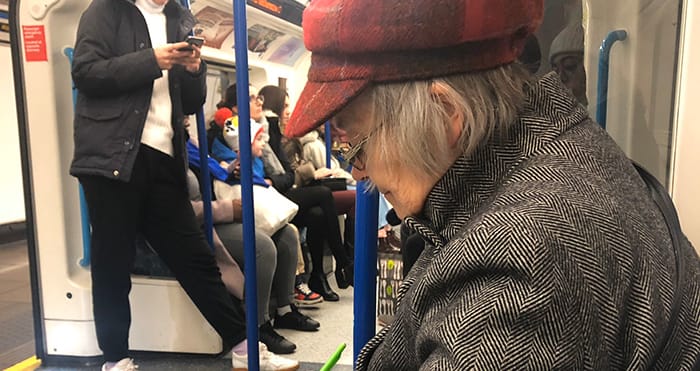 It would appear that two heavyweights of the legal world bumped into each other on the Tube over the weekend.
Law vlogger and Linklaters trainee Eve Cornwell took to Twitter to share with her 33,000 followers a snap of her seated next to (what appears to be) none other than Supreme Court president, Lady Hale. "[H]aha wait … am i sat next to Lady Hale …. WAIT-," tweeted Cornwell on Saturday morning's Northbound Victoria Line service.
haha wait … am i sat next to Lady Hale …. WAIT- pic.twitter.com/DnZVxVQ7ov

— Eve Cornwell (@Evecornwell) December 7, 2019
Pictured wearing a herringbone coat and tartan baker boy cap (sadly, sans one of her trademark brooches), Hale can be seen completing a sudoku or crossword puzzle.
"I'M FREAKING OUT I DON'T KNOW WHAT TO SAY", continued Cornwell, eliciting some very funny responses from her following. "Tell her you're gonna steal her job", wrote one, while others encouraged the magic circle rookie to "ask her to collab", "answer something in her crossword" or "ask about her broaches (sic)". In an amusing take on the YouTuber's craft @JosiePhonexx tweeted: "[S]ay OMG hi I love ur content, can I get a selfie?" It's not clear whether Cornwell did engage in conversation with Hale.
This isn't the first time the Bristol Uni law grad has run into the Baroness. Cornwell shared a throwback earlier this spring of her pictured with Hale during one of her university formals. "[J]ust two woke women having a chat x," she captioned the pic. Hale was formerly chancellor of Bristol Uni.
i feel like i keep referencing this photo and haven't ever shared it

just two woke women having a chat x

(this is why you have to go to Bristol University, Lady Hale turns up to your formals) pic.twitter.com/jvAW9Ayopd

— Eve Cornwell (@Evecornwell) April 13, 2019
It's also not the first time a Supreme Court justice has been photographed using public transport. Check out this shot (below) of us bumping into Lord Sumption in a busy Central Line carriage.