Lawyers share insights into practice areas including ESG, finance, legal tech, gaming and media law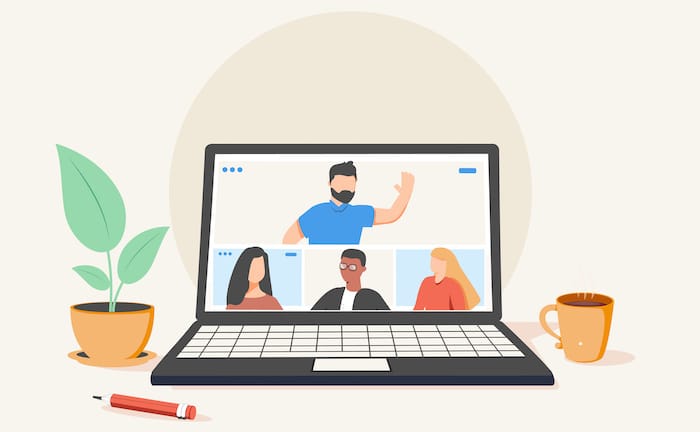 The Legal Cheek Winter Virtual Vacation Scheme 2021 in partnership with The University of Law (ULaw) saw almost 2,000 students take part in workshops hosted by top law firms and chambers, as well as an Employability Expo and case studies set by ULaw.
The Scheme, which took place over the course of one week this month, explored a range of practice areas, including finance, green energy, legal tech, litigation and media law. Here's what went down.
Day 1
Session 1: Commercial awareness overview: what's on the horizon for 2022? — with Travers Smith and Blackstone Chambers
The speakers:
• Will Normand, partner at Travers Smith
• Andrew Scott, barrister at Blackstone Chambers
What went down:
Will Normand, partner at Travers Smith, and Andrew Scott, barrister at Blackstone Chambers, kicked off this year's Winter Virtual Vacation Scheme with a discussion exploring the key commercial trends set to shape the legal world in 2022.
Normand explained how environmental, social and governance (ESG) matters have come to the fore for his clients, while Scott explored the counter-cyclical relationship between litigation and the wider economy. Both speakers came to agree that ESG and human rights-related litigation could be used to investigate longstanding principles of law.
Their words of advice to students were to explore the nuances of areas they are interested in and always be ready to look at arguments from different perspectives.
Session 2: Understanding the corporate legal market — with Osborne Clarke and Ropes & Gray
The speakers:
• Jane Park-Weir, partner at Osborne Clarke
• Charlotte Brunsdon, senior associate at Ropes & Gray
What went down:
The general aim of this second session was to provide a broad overview of the corporate legal market, to contextualise the sessions later in the week.
Describing their role generally as "risk managers", Jane Park-Weir at Osborne Clarke and Charlotte Brunsdon at Ropes & Gray said their work involves advising clients on the risks that they are taking on in a transaction or dispute.
Both lawyers stressed the importance of appreciating who the legal work is being prepared for, which requires an understanding of a client's business focus and commercial drivers. This understanding allows lawyers to liaise well with their clients' experienced in-house lawyers to deliver a clear answer.
Day 2
Session 3: Fintech and the law — with Bryan Cave Leighton Paisner
The speakers:
• Marcus Pearl, partner at Bryan Cave Leighton Paisner
What went down:
Marcus Pearl started the session by explaining how his non-law degree in political science developed his problem solving and critical thinking skills, and facilitated his journey to become a partner at Bryan Cave Leighton Paisner and co-head of the firm's technology practice.
Talking specifically on fintech, Pearl shared one of his "highlight transactions". This transaction involved advising a US fintech company, APTO, on its expansion to Europe with a debit card designed to pay for everyday transactions using cryptocurrency. Pearl used this example to demonstrate how fintech lawyers need to anticipate upcoming challenges and opportunities to "future proof" their advice, draw on their expertise while utilising a cross-discipline approach to solve clients' problems.
In the first case study of the week, ULaw asked students to put themselves in the shoes of general counsel at a FTSE 100 company and outline four strategies to improve working with external law firms and how those strategies would boost efficiency.
Session 4: Videogames and digital media — with Wiggin
The speakers:
• Peter Lewin, senior associate at Wiggin
• Isabel Davies, associate at Wiggin
What went down:
In this presentation, we learnt that there's a lot more to being a gaming lawyer than simply playing video games!
The speakers set out the lifecycle of a games company or product, from its formation through to launch. They went on to explain the broad range of work that this process involves, including advising on data protection matters, copyright issues and marketing campaigns.
Lewin encouraged wannabe gaming lawyers to speak to as many industry experts as possible, on Twitter, for example, or by attending gaming events. "Show me that you have an interest in this area, don't just tell me," he said.
We are meme-ing it up in today's Legal Cheek Winter Virtual Vacation Scheme videogames law session with @WigginLLP pic.twitter.com/AuLdbUmJBE

— Legal Cheek (@legalcheek) December 14, 2021
Day 3
Session 5: Law firms listed on the stock market — with Gateley and ULaw
The speakers:
• Rod Waldie, CEO of Gateley
• Zum Mohammed, senior associate at Gateley
• Hannah Newhall, trainee solicitor at Gateley
• Nick Rogers, tutor at ULaw
What went down:
In Wednesday's listed law firm session, Gateley CEO Rod Waldie told the story of how his firm became the first legal practice in the UK to go public.
Taking advantage of the deregulatory effect of the Legal Services Act 2007, which removed the block on non-lawyers owning law firms, Gateley listed on the Alternative Investment Exchange (AIX) six years ago via a historic initial public offering (IPO).
Since then the firm's share price has surged by 125% as the full service outfit has grown and diversified by acquiring non legal businesses such as Vinden Partnership, a property consultancy, and business psychologists Kiddy & Partners.
Waldie's colleague, Zum Mohammed, a senior associate in Gateley's corporate team, and Hannah Newhall, a trainee, gave insights into the culture of the firm, in which both are shareholders. They explained how this ownership stake has a positive effect on the firm's culture. "Rather than just being open to a few equity partners, everyone is part of the success," said Newhall.
ULaw tutor and former BLM partner Nick Rogers gave the traditional law firm partner model perspective, counterbalancing it with the listed law firm model. He also took students through one of the Scheme's case studies which prompted students to weigh up the pros and cons of being a lawyer within a listed law firm.
Session 6: Employability Expo
What went down:
The Employability Expo run by ULaw provided students with insights on a range of topics including training contract application and interview advice, as well as social media skills.
ULaw senior student recruitment manager Rebecca Schrod provided an in-depth insight into methods for researching firms, emphasising the need to consider a range of sources. She also provided practical advice about applications, highlighting the importance of tailoring applications to the firm.
ULaw careers manager, Ailsa Costello, and careers consultant, Letícia Bittencourt, delivered a workshop on preparing for interviews. They offered practical pointers including arriving at least 15 minutes before the interview, dressing appropriately, and pausing before responding to questions.
Getting students LinkedIn ready, ULaw careers manager Clare Stapleton and careers consultant John McKeown shared tips for networking and job hunting using the online platform — never send a connection request without a message and make sure to set-up job alerts, they said.
Meanwhile, ULaw Guildford campus dean Sarah Pooley gave an overview of the transition from the LPC to the SQE, what to consider when deciding which route to go for such as timescales and cost, and how ULaw is supporting students through the process.
Day 4
Session 7: Restructuring and insolvency — with Weil Gotshal & Manges
The speakers:
• Neil Devaney, partner at Weil Gotshal & Manges
• Jonathan Woods, associate at Weil Gotshal & Manges
• Asha Phakey, trainee solicitor at Weil Gotshal & Manges
What went down:
Neil Devaney, Jonathan Woods and Asha Phakey of Weil Gotshal & Manges delivered a presentation on restructuring law, focusing specifically on what restructuring means, the role of a restructuring lawyer, English law restructuring tools and the position of the firm within the global restructuring market.
Devaney and Woods gave students insights into some of the recent deals Weil Gotshal & Manges has worked on, such as the Lehman Brothers' 2008 restructuring which is still ongoing. We also heard from Phakey who explained the position of trainees in restructuring and the key attributes the firm looks for in its trainee intake, such as being organised and proactive.
Session 8: From fossil fuels to green: the transforming energy sector — with Norton Rose Fulbright
The speakers:
• Charles Whitney, partner at Norton Rose Fulbright
What went down:
Charles Whitney discussed the transition to green energy and how Norton Rose Fulbright's business has been heavily impacted by the move. Whitney explained that many of the traditional oil and gas companies have seen a remarkable shift towards providing cleaner forms of energy.
Looking to the future, Whitney went on to explain how the transition of the energy sector has only just begun. He foresees hydrogen playing a far more dominant role in the sector, as well as the continuing increase in battery production, as the ban on petrol and diesel-fuelled cars draws nearer.
Day 5
Session 9: Life as a dispute resolution lawyer — with Clyde & Co, Gatehouse Chambers, RPC and Womble Bond Dickinson
The speakers:
• Lisa Somervail, senior associate at Clyde & Co
• Jonathan Titmuss, barrister at Gatehouse Chambers
• Daniel Hemming, partner at RPC
• Christina Tolvas-Vincent, partner at Womble Bond Dickinson
What went down:
For the penultimate session of this year's Winter Virtual Vacation Scheme, Clyde & Co's Lisa Somervail, Gatehouse Chambers' Jonathan Titmuss, RPC's Daniel Hemming and Womble Bond Dickinson's Christina Tolvas-Vincent gave us an insight into their day-to-day as litigators.
Speaking about what they most enjoy about their roles, Somervail and Titmuss said they like using the law as a tool to solve clients' problems, whilst Hemming described how he was drawn to dispute resolution due to it being a "team game".
Touching on some of their most memorable work, Hemming and Tolvas-Vincent both told of the hugely varied cases they have been involved in, from prosecuting Barclays Bank for breach of client trust and a settlement demanding a bunch of red roses, respectively.
Session 10: Understanding legal tech — with Dentons, Macfarlanes and ULaw
The speakers:
• Joe Cohen, innovation lead at Dentons
• Christopher Tart-Roberts, head of lawtech at Macfarlanes
• Patrick Grant, project director for legal tech and innovation at ULaw
What went down:
In the final session, Joe Cohen of Dentons first broke down the ways technology is used to deliver legal services more efficiently. By using tools, such as AI for document review, lawyers can focus more on providing clients with high value legal advice. Macfarlanes' Christopher Tart-Roberts, meanwhile, discussed how legal tech is made up of people from a variety of different professional backgrounds, allowing scope for anyone with an interest in combining legal and technology services.
ULaw's Patrick Grant rounded off the session by advising students interested in legal tech to first learn black letter law and soft skills, before looking to understand current processes and seeking to improve them.
In the last case study of the week, ULaw asked students to explain why the deployment of neural network-based tools is a cause for concern, particularly in the legal services industry.
About Legal Cheek Careers posts.