Revealed: Law firms' average arrive and leave the office times 2019-20
Who's totting-up 12 hour workdays and who's home in time for Tipping Point?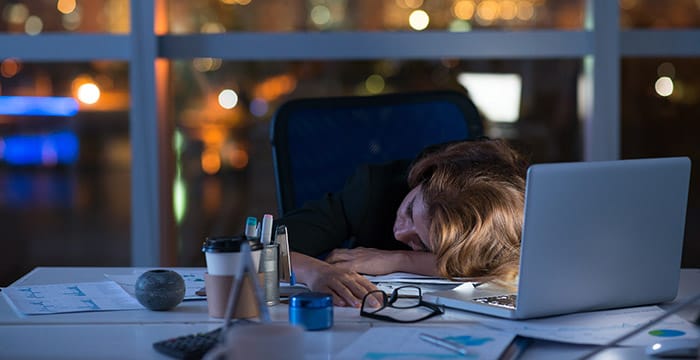 Joining the adrenaline-fuelled world of corporate law and working on megabucks deals for high-profile clients in swish offices with sizeable perks is the end goal for many a wannabe lawyer.
The trade-off, of course, are the hours.
Though they might be at their lowest level in four years — as we exclusively reported last week — solicitors' workdays can vary by as much as four hours across the leading law firms in London and the UK.
This was one of the key findings from this year's Legal Cheek annual average arrive and leave the office time survey of 2,500 trainees and junior associates at nearly 100 law firms.
It comes as little surprise that the top end of this year's list is dominated by the London offices of US-headquartered outfits, with just one magic circle member featuring in the top ten. So-called 'white-shoe' firms are synonymous for having cultures where long working hours are considered to be the norm but have pretty swell moneylaw salaries to match.
The firm with the latest leave time is the London office of US outfit Kirkland & Ellis, where, according to our figures, rookies leave on average at 9:35pm. In second place is Cleary Gottlieb with an average leave time of 9:12pm, followed by Weil Gotshal in third position where the average leave time is 9:11pm — a minute earlier than their Cleary counterparts.
At the other end of the list is BLM, which boasts the earliest average leave time this year. Junior lawyers at the insurance-focused firm are typically out of the door by 5:30pm. The second earliest leave time is Hewitsons at 5:43pm and Irwin Mitchell comes in at third with an average leave time of 5:49pm. All three firms are headquartered outside London, in Manchester, Cambridge and Sheffield respectively, which is true for the most part of the earlier leave timers. Nab a TC at one of these firms and you could be home to catch the credits of Tipping Point!
So how does your firm fare? The results, ranked from latest to earliest average leave the office time, are below. These timings will, of course, fluctuate according to which department juniors are working in, billing targets or the ebb and flow of a deal. Note also the arrival times which vary widely.
Legal Cheek Trainee and Junior Lawyer Survey 2019-20 — average arrive and leave times
As part of the survey we also received hundreds of anonymous comments about working hours. Here are a selection of quotes from US firm and magic circle rookies.
"The reality is that working for more or less any City law firm is not going to be a 9-5 affair. Although anecdotal, my experience seems to have been better than many friends in magic/silver circle firms, and hours, as always, are often practice group dependent. Nonetheless, 9-7pm is a quiet day, you will generally expect to be ordering a firm subsidised Deliveroo at least once or twice a week and, although generally only interrupted when necessary, weekends are in no way sacred."
"Hours have ranged from 'what is daylight' to 'I am as busy and as valuable to this firm as a desk-plant'."
"Long hours, little sleep, burning the 2am oil. Assume you cannot make plans from Monday to Thursday (and some unlucky Fridays). Some teams (more so advisory teams) have more relaxed hours and deadlines where you have more control over your time."
"What is 'life'? Brutal hours are an understatement, small intake (particularly when you are the only trainee on a case/deal) makes this deadly."
"As a US firm, we run a lot leaner deal times so if you're coming up against a deadline, it's all hands on deck for at least a week or two. Whilst it can be common to stay past 10pm/11pm during peak times, at others hours are reasonable (around 6pm/7pm) and I've rarely had to work weekends. Perhaps the toughest part is the 'always available' culture — you're expected to answer calls at ungodly hours or on days off — but hey, that's what they pay you for."
We put the results of the survey to LawCare, the mental health and wellbeing charity for lawyers. Its chief executive, Elizabeth Rimmer, commented:
"We are pleased to see the hours junior lawyers spend at work has gone down this year. The heavy workload and long hours culture in the law can be detrimental to good mental health — we need time to relax, recover and see friends and family — these are not simply nice to have but essential for wellbeing. We would encourage lawyers to look after themselves mentally and physically in order to be at their best at work and at home and to prevent stress, anxiety and depression. Happy lawyers are better lawyers."
Feeling stressed or overwhelmed? You can contact LawCare here.